College Board introduces new AP class: AP Exam Taking
 A new class has joined the hoard of over three dozen AP courses available to high school students across the country: AP Advanced Placement Exam Taking.
The curriculum for this new class will include an in-depth study of every rubric used on AP exams, ranging from free-response calculus questions to rhetorical analysis essays. Students will be expected to demonstrate a thorough understanding of all AP rubrics, even those used on exams the student will not be taking. 
"This course will be a rigorous and fulfilling addition to the AP course library," College Board executive William Yale said. "We're thrilled to be offering it to students. It's truly the crown jewel of APs."
Students are equally thrilled to be partaking in this new course. In the past, there have been complaints about the breadth of the AP courses and how it can be difficult for students taking multiple AP exams to sufficiently prepare for the different demands of each.
"All my AP classes are so different," junior Mickey Donovan said. "It's like I have to memorize formulas for Calculus and then how to integrate evidence for Lang." 
Other students have lamented the demanding time limit on each part of the AP exams. Students typically have one minute per multiple choice question on social science and English exams and two to three minutes per math question. 
"I have two minutes to find the integral of some random expression," senior Kayla Cumberbatch said. "Without a calculator. And it's not just two minutes to find the answer. I have to read the problem, comprehend the problem, think of what theorem I'm supposed to use, remember the equation for said theorem, then actually do the math. How am I supposed to do all that in two minutes thirty times in a row?"
Junior Patricia Goldenbirch shares a similar distress regarding the allotted time to write essays on the exam. On AP history exams, the recommended time to write the long essay question, or LEQ, is 35 minutes.
"35 minutes!" Goldenbirch said. "To come up with an argument, to come up with supporting arguments, to remember legitimate evidence that could have to be from any number of centuries on any number of topics, to remember the specific relevant context, then to write a coherent essay on all of it!"
But students anticipate this new AP course will be hugely beneficial to them.
"I'm so excited for it," Donovan said. "I think it'll really help me understand expectations on the other exams and help me get better scores."
Goldenbirch agrees: "I think this class will make it more clear what's really important for the exams. There's a whole lot we cover in class, and only so much of it can be tested. I think this class will help me see what I need to really focus on to be successful on the exams and what might be a little less important." 
There has also been much positive feedback on the addition of the class from teachers. 
"This will really help the kids," AP Chemistry teacher Albert Bernstein. "I know a lot of my students can get confused on what the AP exam is really going to be like and it causes a great deal of stress for them, especially when these kids are taking 4, 5 other AP classes that they need to be preparing for at the same time."
But what will this highly anticipated new class actually look like? And who will teach it?
At LCHS, the class will be taught by Samantha DuGray, a first-year teacher. DuGray has had five children graduate from LCHS and is well-versed in many AP curriculums.
"Between all my kids, they must've taken at least 80% of the AP classes out there, and all of them did very well on their exams," DuGray said. "I haven't been a teacher myself, but I've had plenty of late nights with chemistry problem sets, literature essays, and art portfolios, so I do feel well-prepared to teach this class."
DuGray has no experience in teaching, but she does have a strong STEM background; she worked as an AI researcher for fifteen years, undertaking many groundbreaking projects ranging from machine learning to gene analysis. DuGray anticipates the new AP class will be of similar rigor to her AI-focused career.
"It's the same thing," DuGray said. "It's the same skills, the same amount of work, the same amount of unknowns. These kids will be doing just as much research and analysis as I was."
Although the overwhelming response to this introduction of the new class has been of excitement, a few students have also expressed discontent over the fact that they will be expected to learn the requirements of AP courses and exams that they will not be taking. 
"It's a waste of time," Cumberbatch said. "Why should I learn the rubric for the AP Physics exam? I'm not taking AP Physics! I need that brain space to understand what I need to do on my AP German and AP Gov exams!"
However, DuGray asserts that there is value to learning the requirements of all exams. "It'll be good for them," she said. "They'll understand what each other are going through in different classes and it'll help build that sense of empathy. Plus, you never know. Kids change their minds all the time, so if they end up taking one of those other classes, they'll have that extra boost of preparation."
Then there's the ultimate question: what comprises an AP exam that's testing AP exam taking? The answer is probably what you would expect: it's a bit of a mix of components of other AP exams. 
There will be 55 multiple choice questions in a 55-minute time allotment – some stimulus-based, some not. There will also be a short-answer question section that will require students to write three short-answer responses in 40 minutes. Finally, there will be two essay responses, which students will be given 1 hour and 10 minutes to complete. 
These essays will prompt students to analyze the most effective question type for different subjects and discuss how these different questions allow students to fully demonstrate their understanding of the subject matter. They may also be asked to argue the benefits of reciprocating information versus demonstrating a comprehension of it, and how multiple choice questions and essay prompts may contribute to that. 
Like other AP classes, students have the opportunity to earn college credit by scoring well on the AP Exam Taking exam. Not all colleges accept AP exam scores for credit – and some will only accept certain scores for certain classes, varying the credit earned – but many schools have already announced their credit policy for this new class.
Some schools have decided not to offer credit for any score on the AP Exam Taking exam, but those that have are generally waiving their freshman seminar requirement for scores of 3, 4, or 5. Freshman seminars in college are often used to strengthen reading, writing, and discussion skills.
 "We have decided that strong performance on the AP Exam Taking exam will be a good indicator of a student's readiness and demonstration of the skills they need to succeed in a rigorous college environment – the same skills we teach in our freshman seminar classes," College University's admissions office said in a released statement.
"It'll really let students get ahead in their college studies," DuGray said. "Earning credit now can save a ton of money and time when you get to college later on."
"I've never been more excited to take a class," Donovan said. "I just know this is going to really pay off down the line."
Leave a Comment
About the Contributor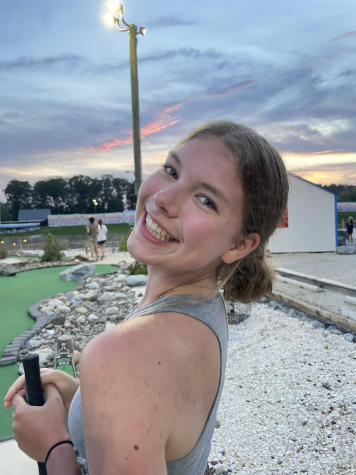 Evelyn Kuzminski, editor-in-chief
Evelyn Kuzminski is a senior at Loudoun County High School. In addition to two years as the layout editor and a staff writer, she serves this year as an...