School pool opens back up
Great news for students and the former swim team has just been announced: the pool on top of the school's roof has recently been re-opened for student use. In the coming month of April, students will be able to try out for the swim team without leaving campus.
The pool was closed down in 2020 due to the COVID-19 pandemic. It was too much work to maintain the pool and since no one was using it, it was decided the pool be shut down. As a result of this, the swim team had no choice but to disband for the time being.
Dinah Soares, a senior who was on the swim team, shared her excitement with the re-opening. "I'm really happy that the school finally opened the pool back up. I remember when I was on the team, I would always admire the view from up there."
School administrator Kerry Oki has had to go from overseeing building maintenance issues to blowing up pool floats due to lack of staffing. "I'm glad that most students were gullible enough to believe the pool was a rumor because we couldn't have them going on the roof unsupervised looking for it," she said.
With the 70 year anniversary of the school, the planning committee has opened up a country club right on campus, and as a part of it, the school will start selling pool passes for student use after school hours and during the weekends.
The money from the pool passes will be used for remodeling the student bathrooms and to remediate the asbestos problems.
This opening of the pool may be great news to some, but science teacher Bill Loney shows concern. "I worry for the students' safety. I don't think this is a good idea considering there are no safety rails to keep people from falling off. I honestly have no idea how this is even allowed," he said.
Swim coach Ella Vader reassures everyone that they are working on making sure students will be safe. "We're currently working on making sure the roof is suitable for students and their safety. For now we've put traffic cones around the area and danger signs to show not to walk past."
In the years prior to the pool closing down, only one incident had been reported concerning a student falling off the roof. However, the student wasn't injured because they had fallen onto a large pile of gym mats which had cushioned their fall.
Oki has hired contractors to start mapping out construction for six foot fences with barbed wire. "The sooner we make this pool safe the better. The last thing we want is to be put on national news again."
Leave a Comment
About the Writer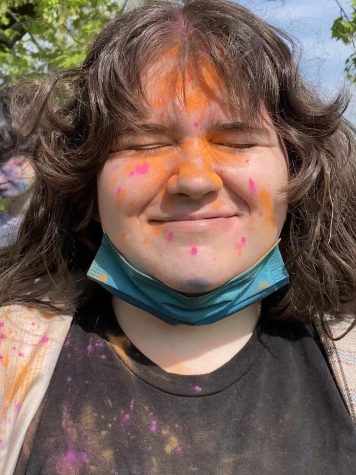 Hannah Winegar, staff writer
Hannah Winegar is a senior at Loudoun County High School. This is her second year writing for the LCHS Newspaper.