Quest for the perfect latte in Loudoun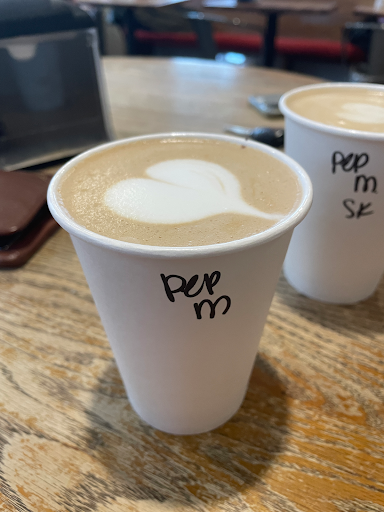 With the colder weather, the season of warm cozy coffee makes its way into the agenda. We traveled around Loudoun in search of lattes, sampling three varieties and comparing the atmosphere of the shop as well as the cost and quality of the lattes. As avid coffee lovers and drinkers, we channeled our experience into featuring local businesses and not large franchises like Starbucks, whose drinks range from $5-$8 per drink. Although many prefer Starbucks because it is consistent and mobile order/drive through appeals to many, supporting local businesses is becoming more and more important during these costly times.
BLEND COFFEE BAR (ASHBURN) – 9/10
 Our first stop was Blend Coffee Bar in Ashburn. Maisy ordered the "Turtle," one of their signature lattes, which is a blend of chocolate, hazelnut, salt, and caramel. With strong notes of caramel, overall it was a sweet coffee, lacking the salt flavor. We definitely recommend it for those with a sweet tooth. The cost of a hot "Turtle" latte was $5.05. For the standard twelve ounces, and solid quality, we recommend this drink.
Rachel ordered the "Golden Graham," which had a combination of honey, vanilla, and cinnamon. True to its description, it was a delicious sweet coffee with all elements balanced and present.
The atmosphere at Blend Coffee Bar was very comforting. There are lots of different styles of furniture and many options of places to sit and enjoy. They have an outdoor seating area with heaters for the colder months. Rachel and I chose to sit on two industrial looking stools with a beautiful furnished wooden table, surrounded by plush looking couches and beanbags.
Looking back at the menu, we noticed that the overall price of hot lattes was less than the iced lattes by a dollar, but were the same size. Because of our love of iced drinks and appreciation for value, we deducted one point from an otherwise perfect experience. Our rating was a 9/10.
KING STREET COFFEE (LEESBURG) – 7.5/10
Second, we went to King Street Coffee and both ordered their holiday special, a classic peppermint mocha, with skim milk for Rachel and whole milk for Maisy. There was definitely a difference between froth texture as there is a higher fat content in whole milk. Maisy's mocha had a thicker froth than Rachel's.
Warm, chocolatey, and sweet; this is the perfect holiday drink. However, the peppermint flavor was lacking, as this drink tasted more like a high quality mocha than a five dollar latte. If you are comparing this drink to a peppermint mocha from Starbucks' holiday menu, it is incomparable, as there is little to no peppermint flavor.
A downside to King Street Coffee would be the food options are scarce. Their pastries and cakes are delicious, but there are no savory food options if a customer is looking for a selection of soups or bread.
King Street Coffee's atmosphere is cozy and homey. There is a small room for seating inside, furnished with art pieces hanging on the walls for sale from various local artists. Outside the entrance, the front porch is accompanied with rocking chairs and lots of Christmas decorations. It seems each time we stop by King Street there is a new gallery on display. Since this is in the middle of downtown Leesburg, it is more a grab and go at your convenience kind of coffee shop, we give it a 7.5/10.
SOUTH STREET UNDER ( LEESBURG) – 9/10
Last stop for us was South Street Under, located in Market Station downtown. This is a place both of us go to frequently and enjoy for both food and drinks. The atmosphere is always very positive, there are tons of options for outside seating and some inside as well. Their selection of pre-packaged food is also a big bonus of purchasing at South Street. We went after school, and it was surprisingly quiet. We thought both people that served us were very friendly and talkative with all customers.
We both ordered a delicious 12 ounce white chocolate latte with whole milk. The quality of coffee was lovely, not very bitter, and had just the right amount of sweetness coming from the white chocolate. Along with our drinks, we got our favorite, their potato and leek soup that comes with freshly baked bread, which never seems to fail. If a customer values money more, South Street Under is a top choice because of the size/quality/atmosphere. We give South Street Under an overall rating of 9/10.
Leave a Comment
About the Contributors
Maisy Davies, staff writer
Maisy Davies is a senior, and although this is her first year in Newspaper, she has had two years of journalism experience. She enjoys writing opinion...