Chasing food and fun: an afternoon in downtown Leesburg
Leesburg, Virginia, a historic town built in the 1740s, hosts a charming array of shops both new and old in its downtown district. Teenagers, especially those attending Loudoun County High School, have gathered in this area for decades, taking advantage of the variety of restaurants, cafes, and boutiques it has to offer. One afternoon in late September two County Chronicle reporters, Junior Olivia DeWan and I, Liberty Harrison, a Junior, enjoyed the waning summer sun in downtown Leesburg, on a mission to visit some of the many locally-loved establishments the town has to offer. 
Dig record store sits on the outskirts of downtown, nestled between Liberty gas station and Hairapy studio. As DeWan and I walked inside, the unassuming exterior melted into a psychedelic rainbow of record covers and colorful knick-knacks giving the interior an almost homey feel. Meticulously organized shelves of CDs and bins of records surround most of the wall space and a small nook in the corner with a chair and record player, which give easy access to customers wanting to sample any records in the store. 
The large collection of records and CDs seems to be carefully curated to offer the largest range of both popular and more alternative music.
DeWan is a music connoisseur and is familiar with Dig. She said, "The variety of music included in the store is exemplary. A large majority of genres are offered from vintage to more contemporary music; any visitor is likely to find something they enjoy." 
In the left corner of the store a stairway leads to the second level, which houses a small clothing section of the store, carrying thrifted clothing items ranging from pants to shirts, dresses, and overclothes, all of different styles as varied as the music collection. The clothes offered are all arranged neatly by color and type, and are presented in good condition. The room's bright blue paint, funky seating area and continued arrangements of trinkets stick with the overarching theme of the store to offer a unique experience to customers.
The prices of the store continue to benefit its reputation. The store offers a range of prices, from rarity items costing upwards of eighty dollars, to more common records often priced around ten to fifteen dollars. It also offers special sales, periodically lowering the prices of select records down to a single digit and even offers a collection of free records for buyers to peruse. The owner also allows bargaining, another attraction especially for more experienced buyers and collectors.
DeWan says of the prices, "I think they're very reasonable, even for the more rare albums. Dig is affordable enough that everyone can walk out with something, regardless of whether they have a lot or a little money to spend." She added, "I also know that lots of times teenagers don't have a lot of opportunities to make money, so I think the fact that the store is so affordable makes it a good place for students."
The quality, price, and atmosphere are all excellent, which leads to the one downside of Dig.
Unfortunately the service is below par. While wandering the store, DeWan and I were unlucky enough to have to interact with a worker who spoke condescendingly to DeWan upon her asking how to work a broken record player. Afterward a customer also made several inappropriate jokes and innuendos about our inability to operate a dysfunctional record player which the employee agreed with, making both DeWan and I uncomfortable.
Taking into consideration all facets of the store DeWan and I felt it would rate a 7 out of 10. The singular problem was with the rude staff, and we agreed that a customer could mostly avoid interacting with these employees, who may in other circumstances be kinder and more accommodating to novices.
After our trip to Dig, DeWan and I decided to grab a bite to eat at Señor Ramon Taqueria, a restaurant that came to Leesburg in 2016 and has gained popularity for its authentic, street style Mexican food.
Walking in, the bright colors clashed with the modern, simplistic design to create an almost industrial feel that retains a bright tone. A spicy aroma immediately wafted from the back giving a preview of the delicacies to come. A menu featuring a variety of tacos, including several vegetarian options, as well as side orders, provides enough diversity in food even the pickiest eaters will most likely find something they can enjoy. The prices for tacos range from three to five dollars, while the other options offered range from around three to twelve dollars, presenting a range of economical options, as well as more expensive larger dishes. 
The staff was friendly and gave helpful suggestions on what to order, as well as giving us plenty of time to review the menu. 
The food was prepared in under five minutes and presented neatly in individual cardboard holders. Cool flavors of sour cream and salsa verde contrasted nicely with deeper notes of spice in grilled mushrooms, shredded chicken and guacamole, all different bases in the tacos. All the ingredients tasted fresh and the grilled meats were cooked to perfection, although DeWan and I agreed that the corn tortillas were dry, an almost bland taste compared to the rest of the ingredients. 
DeWan described her taco, the Grilled Chicken Taco, as "Slightly overpowering on the onions, but overall scrumptious!"
Evaluating the Taqueria, I would rate this restaurant a 9 out of 10, given the atmosphere, staff and prices are all great.
 DeWan said about the Taqueria, "The food was almost, but not quite, perfect."
Lastly DeWan and I stopped at Mocatinas, a sweets shop that opened in downtown Leesburg during 2020. This shop has two levels. The first level of the shop is dominated by pink, white, and gold, intentionally giving the atmosphere the feeling of stepping into a fairytale sweet shop. Numerous candies and novelty sweets fill the back wall shelves of the shop and an arch surrounded by columns lead into a room surrounded on all sides by various small merchandise items. In this room an imitation market stand, bright cotton candy maker, and white centerpiece cement the fantastical vintage aesthetic of the candy shop.
DeWan and I finished out our day with bowls of ice cream, ordered from the range of frozen delicacies offered. I enjoyed a mango-apricot sorbet and DeWan got the salted caramel pretzel ice cream. The prices of both were four dollars; similar to the rest of the items offered, their prices were on the higher side of medium, but with solid quality testifying to their value.
The staff was friendly and kind, happily describing various sweets offered to help their customers best decide which to pick. 
After receiving our orders, DeWan and I made our way up to the second level where a variety of seating options were available. 
The mango-apricot sorbet was incredible, perfectly balancing the duality between ice and smoothness paramount to sorbet. The tastes of mango and apricot were also blended nicely as both of the fruity flavors compliment each other to create a refreshingly sweet summertime snack.
DeWan described her ice cream as, "The creamiest ice cream I ever had." She said, "The sweetness and salt worked perfectly together, reminding me of an improved Reese's peanut butter cup."
Together, DeWan and I rated Mocatinas a 10 out of 10. Given the food, service, and atmosphere, Mocatinas was by far the favorite place of the three we visited. The owners clearly put significant thought into the interior as well as remaining helpful, polite, and professional during every interaction. Beyond that, the food was superb and well priced. 
As Autumn's cool, crisp air makes wandering downtown an attraction, Leesburg's shops and restaurants promise a range of interesting shopping and dining experiences that will provide a fun afternoon for any teenager.
Leave a Comment
About the Contributor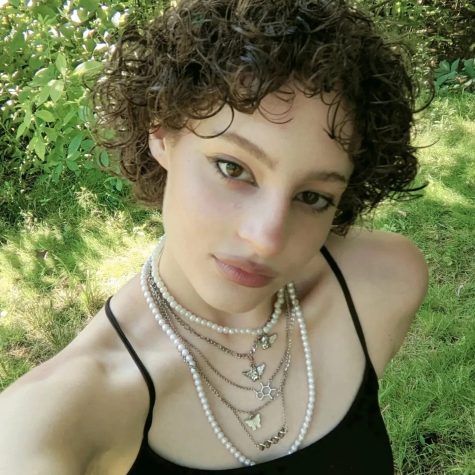 Liberty Harrison, editor-in-chief
Editor-in-chief Liberty Harrison is a senior at LCHS. This is her third year working on the newspaper staff. She would like to one day be an investigative...