On the ice
County's club hockey team hopes to rise to the spotlight
Basketball, volleyball, swim, track and field, football, field hockey, and more are all sports offered at County. Most of them are accompanied by the Captains Crew, but one team, although not varsity, is left out: the ice hockey team.
"I joined the County team my freshman year when we were still paired with John Champe instead of Freedom, who we are now partnered with," senior Jack Kline said. "I joined it just to have a good time playing the game I love with a different group of people contrary to my travel team."
In the Northern Virginia School Hockey League (NVSHL), high schools partner up to fill a roster of kids that are then put out on the ice. County's team is simply known as County/Freedom.
"We only practice twice a season and our practices are pretty laid back," Kline said. "We're just there to meet the fellow players rather than improving our game, because either way we play our top players who, for the most part, have been playing the game for a long time just like I have."
Kline has been playing for the last thirteen years, starting when he was four.
With experienced and inexperienced players, they have won the first two games of their season.
"Unlike football or basketball, pretty much anyone can sign up and play," Kline said. "I've got to play with people three years older than me and three years younger."
However, you do have to know how to skate.
"After seeing my sister attempt skating with her friend, my parents got me into a small skating lesson which I took simultaneously when I played mini mites," Kline said. "After a year or so of those lessons, I began being taught by who is now the Washington Capitals skating coach Wendy Marco, who taught me everything and anything there is to know about skating. She taught me all the way up until present day and has made sure I've mastered the basic concept behind hockey."
Junior Finley Armstrong has been able to skate since she was younger, but continued to teach herself when she bought her first pair of skates.
Junior Ryan Quinn learned to skate through rollerblading.
Junior Kira Catterton followed after her brothers and participated in learn-to-skate events.
Hockey is a rather unique sport in the way that it requires a very specific practice space.
"There aren't many places where you can just go and play hockey," Quinn said. "There also aren't many hockey teams around the area, so it's hard to find a good team with good teammates."
The County/Freedom team practices are mainly held at the Ion International Training Center in Leesburg, where their games are also located.
Another unique aspect is the fact that it's co-ed.
"Going into it playing co-ed can feel really intimidating especially on teams where there is only one other girl or sometimes no others," Armstrong said. "But the team does a really good job of including everyone even if I'm a girl. There are definitely pros and cons about co-ed teams, but I've felt really comfortable with the County/Freedom team this year."
In addition to skating, hockey requires knowledge of all different positions.
"Defense has always been my favorite position in sports, in hockey it's a very physical position to play but I really like how physical the game is," Armstrong said. "It's my first time playing a forward position but I think it's important to score and pass to help the team win."
Armstrong plays right wing, and that position is tasked with scoring goals, and they back-check to help out on defense, where their primary responsibility is the left defenseman of the opposing team.
"In high school I play center, which from a coach's perspective is the first offense-man and the third defenseman," Kline said. "My primary goal is to win faceoffs and score. Overall, I'm required to fill in for pretty much every position if needed and obtain the puck wherever it may be to eventually break out into the offensive zone."
Quinn plays left wing and states that having a strong, accurate shot is extremely beneficial to that position.
But just like any sport, hockey comes with challenges.
"In terms of travel hockey, the most difficult part is the commitment to it, and having to work 110% every shift for 45 minutes," Kline said.
A shift refers to the amount of time spent on the ice. When a shift ends, the other players sub in.
Armstrong, however, has a different perspective.
"Something that's really difficult is the mentality of the game," Armstrong said. "A lot of people try to bring me down saying I'm not good enough, I started too late, or girls shouldn't play hockey. It's a really hard thing to get around, but I look past it and focus on just doing what I love regardless of what people say."
Catteron finds a lot of support in her team to combat that negativity as well.
"I know that the boys have my back if I get knocked down or checked," Catterton said. "It's really fun playing with the boys because it's so different from playing with the girls. Girls are a little less competitive and aggressive. Playing with the boys is much faster."
Kline doesn't think that the co-ed aspect of the game has made any difference, saying, "On the ice they're just as much of a player as everyone else."
They are in collective agreement that a very positive environment surrounds the County/Freedom team.
"My favorite thing about the team is just being able to go out there and enjoy the game with a different demographic of people who I've come to enjoy being around," Kline said. "I just love being able to continue what I've been doing for my entire life, and with my years of playing possibly coming to an end here shortly, I just like having a good time enjoying the things that make the game great."
Hockey also strengthens bonds differently than other sports in the way that players are teamed up together from different schools.
"I really like the relationships hockey brings, mostly with the coaches and other players around the county," Quinn said. "My favorite thing about the team is that everyone is chill and high school doesn't matter as much as travel, so everyone just wants to have fun."
Regardless, County/Freedom is going for the win this season.
"My end goal this year is to win provisional states as last year we were runner ups to Kettle Run," Kilne said. "Personally, I'd like to win a league award for the total number of goals, but we'll see what happens."
Something that the team would appreciate is more support from the students at County.
"Overall, I'd like to see some fans come out to the games," Kline said. "I truly believe that since hockey is off school grounds it's one of the most fun sports to cheer for and hang out at."
Armstrong is hoping that awareness about the team will spread.
"I didn't know we even had a team until I asked about a team to join," Armstrong said. "Also, I don't think it's really considered a school team sport, but having the students there really adds to the environment of the games and makes it really fun."
Catteron agrees.
"I just hope more people actually know we have a team and maybe come to the games and support us," Catteron said. "The game changes, the fans are so energetic, it brings a really nice vibe."
Anyone can follow County/Freedom on Instagram @countyfreedom_icehockey, where they post about upcoming games.
"Everyone is so supportive," Catterton said. "We all cheer and support each other. Anytime anybody gets a goal we're all happy. Like when I get one, they all come skating off the bench."
Catterton encourages those who want to try hockey, but are unsure of committing.
"I'd say at first it might be hard if you've never skated," Catterson said. "But definitely go for it, because it gets easier once you learn the basics."
Leave a Comment
About the Contributor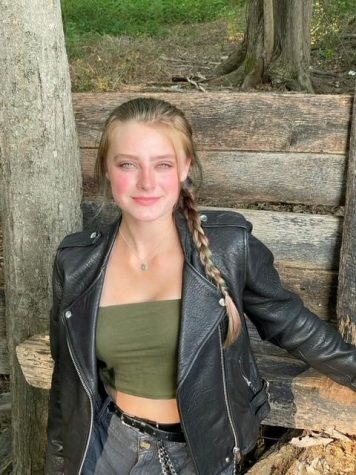 Olivia DeWan, editor-in-chief
Olivia DeWan is a senior, and this is her third year in Newspaper. She loves writing about musicians, sports, and influential students. She will be attending...