Freshman becomes the second female wrestler in school history to win Wrestling State Championship
Growing up in a household of nine siblings who nearly all wrestle, freshman Grace Roberts began learning the fundamentals of the sport at the age of nine years old.
"I started wrestling after watching my brothers wrestle, and I loved it," Roberts said. "It wasn't too difficult because I became devoted to learning it."
On January 26, Roberts became the second female wrestler in school history to win at the Girls Wrestling State Tournament. 
"We actually have had a freshman girl win states before. Leila Tevlin won both her Freshman and Sophomore year before finishing second as a junior and losing her senior year to COVID," wrestling coach Kent Nagy said. Nagy notes that Telvin is now wrestling in college and that doing so would also be an option for Roberts. 
Roberts indicated that she has consistently been working toward the goal of winning state championships. She included that her dad and brothers have coached her along the way. 
"Grace has a lot of knowledge of the sport, she has been wrestling with her brothers through middle school and youth leagues," Nagy said. "She is also very competitive and really hates to lose, which gives her the motivation that she needs to be successful in a very demanding sport."
Roberts explained that seeing what other people could do at wrestling meets and then seeing that she could do the same made her want to achieve more.
"Whenever I get butterflies in my stomach before I compete, I try to clear my head and stick with my typical routine," Roberts said. "Usually, I don't listen to music or anything while warming up, I just try to focus on what I am doing."
Roberts mentioned that the moral support from her teammates and friends at the state tournament was what made it so special. 
"Everybody on the team is really kind," Roberts said. "At the moment I am the only girl on the team, but I'm cool with it, and I'm glad my team can support me."
Roberts states that she hopes to keep wrestling in her daily life in some way after she graduates from the student wrestling program. 
"Wrestling in college is something that I could definitely see myself doing in a few years," Robert said. "However, right now I am really focused on improving my skills day by day."
"As someone who has two daughters at home I was extremely proud of Grace," Nagy said. "She is a great model of what a strong, hard working, young woman can be. My greatest regret this year is that my daughters have not attended matches because COVID and haven't seen all of Grace's success."
Leave a Comment
About the Contributor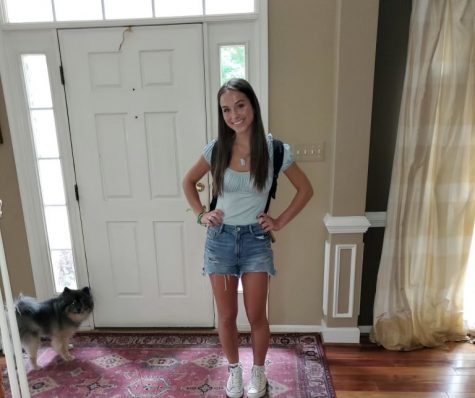 Michaela Scott, Editor in Chief
Michaela Scott is a twelfth grade student at Loudoun County High School, and is currently enrolled in her third year on the newspaper staff. This is her...