Sarah Jordan Ends High School Career With Another State Championship
     During the COVID-19 pandemic, playing sports has been a highlight for many students and a way to take a break from everyday stress. They look forward to competing and being in their own world. 
     "Every time I touch the ball, I instantly become happier, more confident, and just myself. I love what comes along with playing like competing and traveling all over the country and forming relationships with my teammates," senior Sarah Jordan said. 
     Although Jordan has been playing volleyball since the 5th grade, these last two years have been the most unique and challenging out of all seven years.
     "The most challenging aspect of my career has for sure been this COVID season because everything was messed up," Jordan said. 
    Jordan and the rest of the team had an usual season last year due to all of the COVID protocols such as limited fans, spacing out, and wearing masks. This year, rules are not as strict, but there is still the constant threat of the virus. 
     "I played club volleyball season and my highschool season at the same exact time, which was really hard and taxing on my body," Jordan said, noting another challenge.  
     This year has been super important for Jordan because it was her final season with the high school team. Jordan has been on the Varsity team since her freshman year. 
     "The team was absolutely amazing because we were so close and treated each other as sisters," Jordan said. "Our chemistry was beyond anything I can explain. We love and care about each other so much, which made fighting for the wins that much easier."
     Jordan played as a setter and right side for the team and was an honorary team captain. The team had a record of 27-2 and won every home game of the season.
      This record ultimately set them up for states and later, another state championship. States was on November 19, 2021 at VCU Siegel Center, where the team went to four sets overall.
     "This game was super important because we were going for the tenth straight title and we wanted to achieve a 'Decade of Dominance'," Jordan said. "We were having a little trouble getting our groove and finding our rhythm, but eventually we figured it out and played one of our best sets of the season. The fight was worth it though when we got the trophy and won the last point."
     Although the season has come to an end, Jordan is still grateful for the time spent with the team and the strong finish they had. 
     "Obviously I am sad, but very grateful for the time I had with my teammates and this program and I would not change my experiences as a LCHS volleyball player for anything," Jordan said. 
     Jordan will be furthering her volleyball and academic career at Towson University on a full-ride scholarship next year. 
     "I am super excited for this next chapter and getting to play in a big arena with girls from all over the world, forming friendships, and making memories that will last forever," Jordan said. 
Leave a Comment
About the Contributor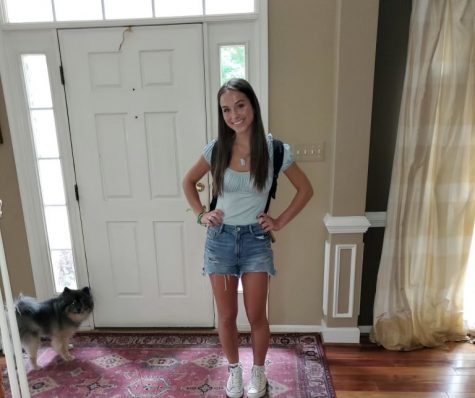 Michaela Scott, Editor in Chief
Michaela Scott is a twelfth grade student at Loudoun County High School, and is currently enrolled in her third year on the newspaper staff. This is her...