The Captains Chase their 3rd District Title
     The Captains look to continue their District dominance in front of fans and the Captains Crew for the first time in over a year.
     After an unorthodox basketball season that consisted of no fans and less games, the Loudoun County Captains look to come out of the gates hot in front of a full student section and fans. They look to continue their streak and compete for a 3rd District Dulles title.
     With every high school team, the Captains lost vital senior players last year, which led to rising juniors stepping up. Some say that this is the most talented team the County has ever had. 
     "Every year is different but this group has some very talented players," Head Coach Mark Alexander said "We are coming together and playing better as a team. When we can get everyone healthy and on the same page with what we want to run, this team can compete with anyone. We have an opportunity for our 3rd straight Dulles District title and that's exciting for these kids and the school community."
     The Captains' season was shortened due to Covid protocols. This will have been the first time that this team has played a full season and with fans in the stands. "I think I speak for everyone when I say that it is great to have a full and normal year of sports," Senior Guard Brendon Boyers said. 
     "I am very excited about having a full season this year," Junior Forward Nick Alexander agrees. "We are able to showcase our talents to teams outside of our district." 
     Loudoun County's student section, the Captain's Crew and fans play a huge role during the season. "Our fans are one of the biggest parts of our game." Boyers said. "The energy and commitment that our fans and students bring to our team really shows and we feed off that energy every night we play."
     Coach Alexander agreed. "The Captain's Crew is fantastic. We definitely feed off of their energy. We have been tough to beat at home over the last four years and the Captain's Crew should get credit for that."
     Coming off a shortened season, the Captains are hungry to show what they can do in a full 22 game schedule. "I am most looking forward to playing in front of the fans and being involved in all the aspects of the game that we didn't get to do last year," Boyers said.
     "While last year's season was shorter we still had everything needed for playoffs." Alexander said. "I'm very excited for the district tournament this year. I love competing in competitive games."
     The Captains are determined to continue their Dulles District dominance by striving for their 3rd straight title. The team is currently 10-4 and atop 1st place in the District. 
Leave a Comment
About the Contributor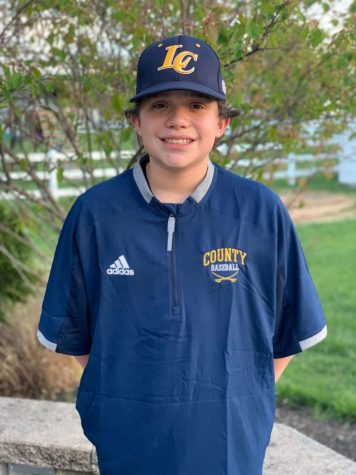 Matt Starchville, staff writer
Matt Starchville is writer for the County Chronicle and also writes for LoCo Sports. He likes to play baseball and play video games in his free time....