Student-athlete vaccination policy draws mixed feelings ahead of winter and spring seasons
After very unusual and unpredictable sports seasons last year, student-athletes have been hopeful for a bit more normalcy. Last year, COVID delayed seasons, forced athletes to quarantine, and limited spectators. Some mitigation strategies and effects remain, but overall, many things are returning to normal.
"Last year, we had to do daily temperature checks and COVID screenings," Kate Cassidy, athletic director, said. "We've moved away from those, so we just ask that kids, if they're sick, stay home, and get in touch with us. So we're starting to relax those a little bit."
Masks are no longer required to be worn while physically participating in a sport, as they were last year. However, they are still required at all other times while indoors, including in team huddles, on the bench, and in the locker room. The county also has policies that all schools are required to follow, such as disinfecting equipment, Cassidy said.
For the winter and spring seasons, those mitigations are expected to remain in place. "I don't see those strategies changing at all," Cassidy said.
There will be one major difference between the fall season and the winter and spring seasons this year, though: vaccination requirements. In late August, superintendent Dr. Scott Ziegler announced that student-athletes will be required to be vaccinated to participate in winter and spring sports, taking effect November 8. The two exceptions to this are for students who cannot be vaccinated for a medical or religious reason.
"We haven't been given the definition of what a medical exemption or religious exemption is yet, but those kids would have to test weekly, and get a negative test," Cassidy said. Unvaccinated students will also be required to test negative before returning to play after exposure to COVID, according to the LCPS announcement.
LCPS employees, which includes coaches, are also required to be vaccinated, starting November 1 according to a different LCPS announcement, also in late August. After October 1, staff that have not shown proof of partial or full vaccination will be required to submit weekly COVID tests. Both announcements note LCPS's prioritization of the safety and health of staff and students.
COVID has brought about many changes and caused many disturbances to athletics, but so far, it's hard to tell if there have been less disturbances to sports seasons this year than there were last year, Cassidy said, although she's hopeful that that will be the case.
"Breakthroughs are still positive cases, and can still happen even if you're vaccinated," Cassidy said. "But if everyone on the team is vaccinated, and testing, I think we'll see less shut downs."
COVID has had an effect on teams so far this year, though. Two teams have had to be temporarily put on pause, Cassidy said, meaning someone on the team – including coaches, managers, and players – tested positive. When teams are paused, contact tracers from the county then determine if anyone had close contact with the individual and if they have to quarantine before the team can resume.
"The difference between this year and last year is if you were a close contact last year, you automatically quarantined for two weeks," Cassidy said. "Now, if you're vaccinated, you no longer have to quarantine, we just still have to watch you for symptoms and if symptoms arise, then we have to have you get tested."
Although a positive case impacts the entire team through the temporary shutdown, it doesn't necessarily impact other teams in the same sport. However, if the teams interacted with each other, such as scrimmaging or practicing together, both teams could be put on pause.
"But we encourage most of our teams to try to separate as much as possible, so that if there is an exposure, let's say on the freshman team, it doesn't shut down the JV and the varsity," Cassidy said.
There has been a mixed response to the new policy, with strong feelings on both sides. Some are glad that the county is taking action, and others think they are overstepping, according to Cassidy.
"I would say people are either really happy about it or really unhappy about it – there's no middle ground," Cassidy said.
For Ellison Taliaferro, the new policy is causing a significant change. Taliaferro, a sophomore on the lacrosse team, was not planning on getting the vaccine. She expressed concerns that she said her mom was anxious about regarding the vaccine, including how new it is and the lack of knowledge about long-term effects.
However, in light of the new requirement, Taliaferro says she will now get vaccinated in order to be eligible to play lacrosse in the spring, 
"I'm going to get vaccinated because I love the sport and I want to play it, but it's definitely going to affect my parents," Taliaferro said. 
Overall, though, she doesn't agree with the requirement. Many parents are concerned about how a COVID vaccination will affect their children in the long run, and she doesn't think the decision to vaccinate or not should be made for them, with the opportunity to play sports – something Taliaferro says is a distraction for a lot of students, and something that they love – at stake. "It's going to be a hard decision for parents, and it shouldn't be mandated."
Taliaferro also cited worries about what would happen if parents do not allow their kids to be vaccinated, and therefore prevent them from participating in sports.
"If their parents don't let them play because they won't let them get the vaccine, that's going to be really detrimental to a lot of kids' mental health," Taliaferro said.
Furthermore, according to Cassidy, participation has decreased since the pandemic began, and Taliaferro is concerned about how those lower numbers will affect sports programs that are relatively new or small and trying to establish themselves, such as lacrosse.
Taliaferro does think that if more players are vaccinated, teams will face less disturbances due to COVID, but she also acknowledges that vaccinated individuals can still get infected with and spread the virus, even if it doesn't affect them as severely.
As a player, Taliaferro has experienced the effects of a COVID-caused disruption firsthand. Last year, she had to quarantine for two weeks after an exposure to COVID at the beginning of her freshman season of volleyball. 
She described how an interruption to the season can affect a team: missing players can necessitate lineup changes or position changes, and there may not even be enough players to play. The team's playing and chemistry are also affected, Taliaferro said. "It's definitely really hard."
Sophomore Madison Ruff also knows what it's like to be on a team that has been directly affected by COVID. Two of her teammates tested positive earlier this season, causing concern for both the health of the players as well as the opportunity to participate in an upcoming scrimmage, Ruff said.
But for Ruff, the policy is a relief. 
"Personally, I'm happy about it," she said. "I wish they had implemented it at the beginning of my volleyball season."
Ruff thinks the policy will relieve some of the concerns surrounding sports teams in regard to COVID. "I think teams will have to worry less about teammates getting positive results and the whole team having to quarantine," she said.
The policy won't have as much of an effect on Ruff as it might on other players, like Taliaferro. Ruff plays a fall sport, so the policy will not take effect until her season is over. Ruff also said that she is already fully vaccinated, so if she does decide to play another sport, it won't be a big deal for her.
However, although it doesn't have a direct major impact on Ruff, she does think her mom will appreciate the mandate. "I know this requirement will help put some of my mom's worries at ease," Ruff said. "She was already worried about the risk of me playing sports."
Overall, many athletes are back on the court or field with some semblance of normalcy this year, and the policy is another item on the ever-growing list of ways COVID has impacted sports. Many expect that impact to be continued, with the virus prompting changes to policies and norms in unknown ways.
"I think as long as COVID's around, there's going to be changes," Cassidy said. 
Taliaferro repeated the same point: "It's still going to affect teams until this pandemic is over."
Leave a Comment
About the Contributor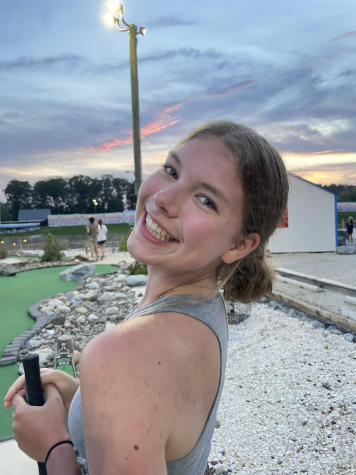 Evelyn Kuzminski, layout editor
Evelyn Kuzminski is a junior at Loudoun County High School. This is her second year serving as the layout editor and a staff writer for The County Chronicle....