Music blasts across the front lawn on a perfect sunny day while students turn their attention to the makeshift stage. Performing covers from Guns N' Roses, Green Day, and Bon Jovi, Richard Ricci, Phillip  D'Arcangelis, Matthew Armes, Hideko Dudley, Matthew Trkula and Joshua Brown took an ordinary school day and transformed it into something far more enjoyable. 
D'Arcangelis describes the group as "this thing that randomly happens every couple of years when Mr. Ricci really wants it to happen. My first experience with this group was around 2015."
Staff Infection constantly switches members, and Ricci unites them. 
"Legend has it that the band goes back into the 90s," D'Arcangelis said. "I got involved because I was asked by Mr. Ricci, and who can say no to that face?"
Story continues below advertisement
The goals of Staff Infection are simple: to have fun and entertain the students. 
"Some staff members were looking for a fun activity to do that would contribute to school culture and spirit," Ricci said.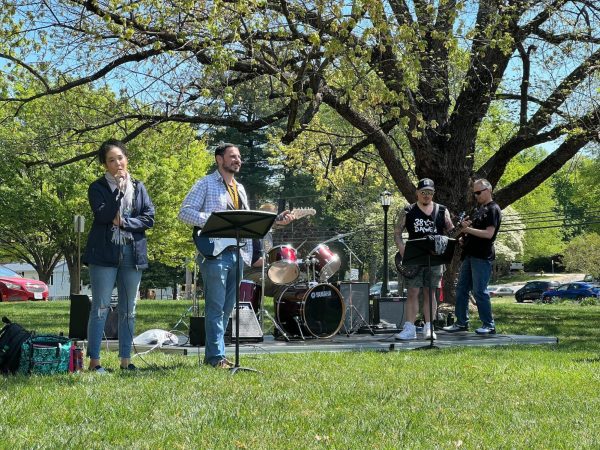 In order to add to that "school spirit," Staff Infection started practicing for a gig for the students on April 19 during the periodic Lunch On The Lawn.
According to D'Arcangelis, the group practiced in the band room and the auditorium four times in the morning before school leading up to the performance.
It may seem like a short amount of time to prepare, but thanks to the group's individual musical skill, everything started coming together. 
"We do have some amazing musicians," Ricci said. "Mr. Trkula can play anything on guitar – he makes me dizzy. Mr. D. is used to playing more technical parts on bass, so whatever we do is easy for him. Mr. Armes did really well getting back into drums for the first time in years. Ms. Dudley and Mr. Brown are just gifted singers."
All musicians took part in some form of music when they were in high school except for Ricci, who didn't start learning rhythm guitar until he was about 40 years old. 
Staff Infection takes a lot of their inspiration from 70s and 80s rock. However, they did play a few pop classics. 
"I loved "Party In The U.S.A"," Dudley said. "It is fun to see all of our students sing along!"
Students were thrilled to hear that Staff Infection would be playing at all lunch shifts. There was hardly anyone eating in the cafeteria that day. 
"When I first heard they were playing I was super excited to see them," freshman Norah Lee said. "Afterwards, I was so impressed, the performance was amazing!"
Staff Infection had to overcome a few challenges, one being sound difficulties during A and B lunch. 
"We didn't have the equipment fully set up," D'Arcangelis said. "C lunch got the best performance and D was fine, too. For only practicing as a full band for approximately two hours total before we played the lawn, I think it wasn't too bad. I'm a super perfectionist, so I'm never fully happy with any performance."
Dudley, affectionately known by her students as Ms. Kiko, had a brighter outlook. 
"It was fun," Dudley said. "I love to see the students singing along and just having fun in general."
A crowd favorite, based upon cheers and applause, seemed to be "Sweet Child Of Mine" by Guns N' Roses. During D lunch, senior Donovan Claybrooks jumped in on alto saxophone to accompany the band as well. 
"The students and staff seemed to enjoy it, and a lot of folks offered some nice comments after the show ended," Armes said. "Overall, I felt our performance on the lawn went pretty well."
Students have been asking for Staff Infection merch while inquiring about their next performance, which is currently in the works. 
"I was surprised they played for us and that all those teachers knew how to play instruments," junior Daniellah Etisi said. "I thought the performance was great and they did an amazing job covering the songs! I know my friends enjoyed it as well."