2023 LCHS Women's Summit offers resources for students to pursue different industries
March 14 marked the second annual LCHS Women's Summit. Sponsored by Captains United and Alpha Delta Kappa, this reputable event took place for the first time last year with the main focal point being to highlight the achievements of our school's young women and to inspire greatness out of all students. Planning for the event was a team effort created and executed by retired English teacher Arlene Lewis and junior Daniellah Etisi with senior Liberty Harrison. 
Taking place right in the library, the 2023 Women's Summit featured a variety of speakers ranging from current to graduated students to teachers to family members of LCHS students. This year's keynote speaker is an LCHS mother Julie Sprinkle who started off the summit speaking on her experiences in the Judge Advocates General Corps. 
Sprinkle reiterated to the students in attendance that life will have all kinds of obstacles, but persistence, perseverance, determination, and creativity are what can make a difference in your journey in whatever you want to do. The end of her speech kicked off the breakout sessions of each presenters' topic.
Lewis being a part of Alpha Delta Kappa, has always had the idea of wanting an event that encourages young women to be motivated to achieve their goals without being held back by their gender. "It's important for young women to recognize all the opportunities they have to succeed and open their eyes to all of the things they can do," Lewis said
Lewis also made it known that not only female students were welcome to the summit, but students of all genders who were interested in any of the topics presented. This event was made to be very intimate for County students by featuring only current students, former students, or families of students. "We could get outside speakers, but we don't want that," Lewis said.
Senior Sachi Kataria presented Women in Computer Science, Junior Mia Anderson presented Women in Aviation, Senior Katie Meek presented Women in the Military, Junior Daniellah Etisi and Senior Liberty Harrison presented Women in Activism, Junior Sela Campbell presented Women in Music, LCHS graduate Kristen Ponticelli presented Women in Fine Arts, LCHS teacher Mrs. Alyssa Casanova presented Women in Publishing, and Sophomore Sophia Albert presented Women in Voice Recording.
Every speaker in the event was recognized for their passion in their field they chose to present about which made the feeling of the event so positive and encouraging for those in attendance. "It's there if you want it, so go for it," Lewis said.
Leave a Comment
About the Contributor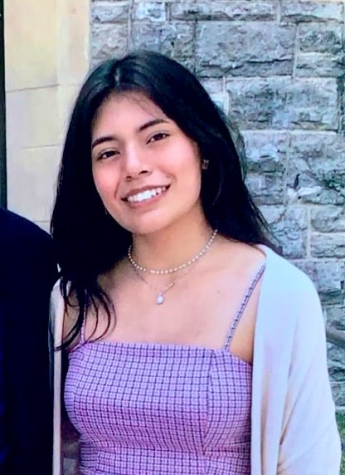 Brianna Martinez, staff writer
Brianna Martinez is in her junior year at LCHS. This is her first year on the newspaper staff and plans to study journalism in her higher education.