Environmental Club celebrates our green society on Earth Day
Two years ago, the environmental club's leadership was demolished after the team graduated in 2020, although this year, the new administration worked with science teacher and club advisor Tracy Webster to regain the student body's involvement in the organization. 
This year the leadership coordinated a special club meeting in honor of Earth Day on April 22. "We're hoping that our Earth Day meeting will draw more students into our club," junior Liberty Harrison said. "We want to encourage people who normally wouldn't take any actions toward helping the environment through this club. It is our goal to make joining as easy as possible for newcomers." 
Unlike other extracurriculars, the environmental club incorporates a series of committees in an effort to focus on specific environmental tasks. The 2022 committees are the hiking committee, promotional committee, and community service committee. 
"All of our leaders (Harrison and sophomore Daniellah Etisi) are super involved in being the backbone of our organization," Harrison said. "They ensure we have all of the supplies for each task we accomplish, they make sure information is being easily distributed and they oversee the general operational aspects of the club." 
Typically, meetings begin with an introductory PowerPoint presentation aiming to establish the agenda and goals of the month. The month's objective is to restore the courtyards, and distribute roles intending to support our school's property.
"We usually close the meeting with a fun little craft, after working on the monthly projects, just to relax for the rest of the time," Harrison said. "With the help from some faculty, we partnered up with the art department for Earth Day to create a special bulletin board displaying art celebrating what Earth Day meant to students." 
Etisi indicated that the Earth Day club meeting stood out among others because the leaders were able to get a higher number of participants compared to any other meeting. "Last year, we conducted the club virtually so it was much harder to get students to engage," Etisi said. 
For Webster, the bluebell project was definitely the club's primary project of Earth Day because of how successful it was. 
"It was pouring down rain, everyone was getting messy, hands dirty, and we were right on the river. They did great things and put out at least 150 plants," Webster said. "We got to use equipment and they all learned how to use an auger, so we were able to get the holes in the ground quickly. Getting that experience encourages students to engage more with their environment." 
Etisi concluded that the environmental club's first concern is to sustain the leadership next year and expand the organization at County to the greatest extent.
"This planet is the only place we have and if we don't want to take care of it, it won't be here for other generations," Etisi said. "If you look around just in our community, you might believe nothing is wrong, but we're mainly trying to bring awareness to environments outside of our homes, and showing people it can happen to us. We want students to understand the effects of a negative environment and how it can have a poor impact on our planet as an entity." 
Leave a Comment
About the Contributor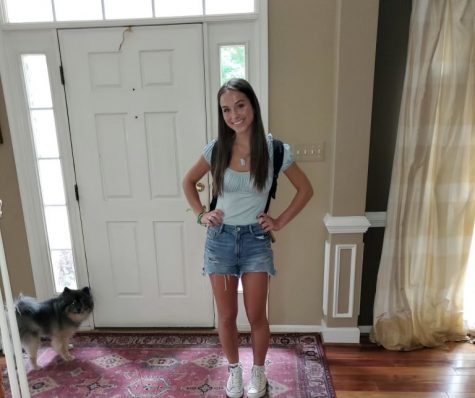 Michaela Scott, Editor in Chief
Michaela Scott is a twelfth grade student at Loudoun County High School, and is currently enrolled in her third year on the newspaper staff. This is her...