Morning announcements moves to a new live format
Recently, the LCHS morning announcements staff has been pushing out your daily news in a new format: live. This change has come with many technical challenges that students and staff have had to navigate through.
Senior Sarah Jordan is one student who appears on the boards in classrooms every morning to deliver the announcements to all students and staff. "I think having them [morning announcements] live makes the students want to engage and listen more," she explains. "It also makes the announcements more relatable and impactful since we are broadcasting it live."
A live broadcast means that you only have one chance to get it right, unlike before when they could start over the recording if there were any technical difficulties. "Being live there is definitely a lot more pressure and nervousness. I have in my mind, 'I cannot mess up and just redo the whole thing. If I mess up then everyone will see it'," Jordan said.
For the technical staff, doing live announcements has been a lot less work compared to when they were pre-recorded. "The pre-recorded announcements, half the work was editing the videos, but now that we have live announcements the editing is little to none," states junior Alex Ahedo.
As this change in format is somewhat new, there are still multiple things that could be improved to make the announcements perfect. "Right now the announcements are very simple, but hopefully at some point they will be more interesting and visually appealing," Ahedo said.
For Jordan, she would love to have a microphone to make it easier for everyone watching to hear her. "I also wish there was a better/more reliable camera set up, because sometimes our audio or visuals do not work the morning of," she said.
Student Activities Coordinator Matthew Prince plays the role of the advisor in the morning announcements crew. "I think the SCA has done a great job making the transition to live announcements midway through the year," he said.
The inspiration to make the switch to live announcements came from Prince watching other schools experiment with live announcements over the pandemic. "I was impressed with how a couple of schools did live announcements so I reached out to those schools to learn how to use the programs provided by the county," said Prince.
Prince learned the skills necessary to achieve live streaming the morning announcements by reaching out to the schools he was impressed with by their live format as well as watching YouTube videos.
The morning announcements staff hopes to continue with live announcements and look forward to improving the show in the future to make it even more entertaining.
Leave a Comment
About the Contributor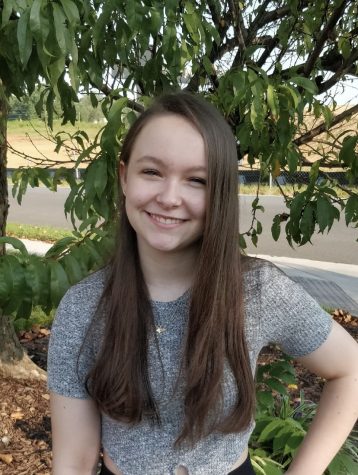 Alexis Shugars, staff writer
Alexis Shugars is a reporter for The County Chronicle, who's interested in writing about a variety of topics. This is her first year writing for the...