Bumpy road ahead as government shutdown dread looms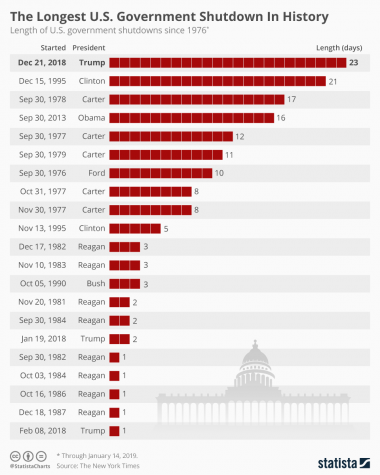 A government shutdown looms as Democrats fight against partisans to pass Biden's spending agenda. This is a familiar scene for legislators as the December month has historically been a hectic month in Congress.
In recent history, President Donald Trump's administration resulted in a 35 day government shutdown in December 2018. This shutdown was over a dispute for funding of the southern border wall.
Trump vetoed a spending bill that did not address border funding. He vowed to "shutdown" the government while declaring a national state of emergency over the southern border.
Democrats and the majority of the House legislators did not vote for Trump's amendments to spending legislation. Trump signed a three week legislation to open the government and stop the furloughs on February 15, 2019 after 35 days of government shutdown.
Trump's political push for the border wall was unsuccessful while he did receive overall positive feedback from the majority of Americans over his State of the Union address.
Regarding this December of 2021, the shadow of the looming shutdown is familiar. Republicans and more moderate Democrats cannot justify this large spending bill and welfare.
According to NBC News, the "skeptical group of Democrats" include Gottheimer (N.J.), Murphy (Florida), Case (Hawaii), Schrader (Oregon).
Republican representative Dan Crenshaw told "Fox News Primetime" that all the president is doing is "building the Taliban back better," with the infrastructure spending included in Biden's plan.
Other lawmakers, such as left leaning Democrats, have their own disputes of the lack of "robust climate reform" according to Bernie Sanders. Sanders and other Democrats are pushing for expanding Medicare and lowering prescription drug prices.
Although the legislators have their personal and partisan vices, there is little chance of the bill passing without reform and little to no chance of one with increased government spending.
December is a very unpredictable month for legislators, and this 2021 season appears to be no different.
President Biden has signed into a bill that funds the government though February 18. This is a temporary solution for the spending issue that is still facing spark debate.
"I want to thank both houses of Congress—especially Senators Leahy and Shelby and Representatives DeLauro and Granger—for this bipartisan agreement, and for avoiding a government shutdown as we have seen so often in the past," Biden stated earlier this year.
With the future past February 18 still unclear, citizens have to deal with the uncertainty and the continuous resolution of the federal government.
Leave a Comment