Cheer team perseveres through COVID
As school opened back up one of the extracurricular activities most affected nationally by COVID has been sports, including cheerleading, posing unique challenges to coaches and participants as seasons have begun. Loudoun County High School's Cheer team in particular has also had to adjust to the change in mascot from Raider to Captain that took place over the summer.
"We are really excited to use Captains as the team mascot this year," varsity head coach Samantha Mancini said. "So we are hoping that the new mascot and new uniform will really give us a good vibe."
These concurrent events have resulted in a distinctive year for the team, as they navigated new rules and regulations and found ways to continue supporting the other sports teams also affected by COVID.
Changes have contributed to both physical differences and the psyche of the team.
"We had to push back our season to the spring," said sophomore Mia Rodgers. "We didn't even know if we were going to have a season."
Much to the relief of the girls on the team, they did have a season. However, there were significant changes that caught the girls off-guard.
"It's disappointing and not the same without the fans rooting us on during our competitions," sophomore Riley Fox said. "It's very quiet and we have to be more creative to keep the team spirit going for the players and cheerleaders."
The new adjustments were especially difficult for the freshmen.
"Because a lot of our team is freshmen, it's very hard [for them] to understand what the other girls have already experienced in regards to like school spirit," Mancini said. "It's really hard for the freshmen to grasp what it feels like to be out of football game on a Friday night and a competition full of fans in the crowd because they're only allowed to have one parent per athlete so in that regard."
The team had also experienced changes caused by the reduced number of students that tried out this year, affecting both JV and varsity teams, but having the most impact on varsity. This was both due to the fact that the high school had to change its cheer season from fall to winter, making it coincide with a different cheerleading program's All Star Cheer season and the general apprehension around participating in team sports during COVID.
"I know this is a countywide issue, a lot of schools have lost like some of their girls because All Star Cheerleading is too big of a conflict for them, so a lot of girls had to choose, which really stinks," Mancini said, noting that the number of students trying out dropped from around 42 last year to 22 this year, leaving 17 on varsity and five on JV.
"The ones who came out,  they're making the best of it so we're going to make it the best we can this season," Mancini said. Tryouts were also changed for COVID regulations, which caused some difficulties. Whereas usually during tryouts groups were able to be rearranged to see who worked best together, due to COVID regulations cross-contaminating groups was not allowed.
"That was really tough trying to figure out based on size and all of that," wrote Mancini. "Then making the competition routine has been really difficult because of that as well but I think we're finally at a good spot now."
Less time during the season has also affected the procedures usually followed, especially in regards to choreography.
"Usually the seniors, it's their role to teach the younger girls, but we didn't really have that much time this year so we had to upload all the cheers to our Instagram account so the new girls had to learn it off of that," said Mancini. "But we have had some practices to learn it."
Choreography, as well as chants, have also been directly affected by both COVID and the mascot change.
"For the cheers for football games, the motions are all the same from what they used to be, we just kind of changed the word from the old mascot to captains," Mancini said. For games, the team has no trouble following guidelines. On the sidelines, there is more than enough space to be 10 feet apart, especially with fewer participants this year. "Luckily that all is working in our favor," Mancini said.
Competitions have been more challenging. As in previous years an independent choreographer does the more complicated choreography for competitions and there are more regulations for competitions, many of which have been changed by the Virginia High School League because of COVID.
Some of these changes include the banning of pyramids and basket tosses. Prop regulations have also been tightened, meaning items such as signs and pompoms are not allowed to be exchanged between two girls, which has greatly affected the crowd involvement portion of the cheerleading route.
"We are not able to stunt," Rodgers said. "Stunting is very important to cheerleading and we have to work with what we are allowed to do. For competitions we are allowed to stunt, but it's very limited."
Participants in competitions are given the choice whether or not to use a mask, although according to Mancini most of Loudoun County High School's cheerleaders have chosen to wear them throughout their competitions.
"We've been having to do more dancy sections and a lot more jump sections," Mancini said. "That's actually good for us I would say because we're strong and those areas"
Still, coming up with routines that followed COVID regulations has been a challenge. "That was really interesting and tricky trying to make sure that each girl only holds their sign," Mancini said. "So we have three different sign sections this year, so we had to switch a lot of stuff around for that."
The mascot change, which affected chants, didn't pose as large of a challenge, although it did add another layer of change to be adjusted to.
"We didn't have to come up with new cheers," said Rodgers. "We just changed Raiders to Captains. There are some cheers that we can't flip over to Captains because it doesn't sound right or it has too many letters."
Even Mancini noticed the girls struggling to accommodate for the rapid change.
"The girls were at first still saying Raiders," Mancini said. "Mentioning how old the school was, and subsequently how many years of cheers they had to change, she continued. "It really wasn't that hard. Once we changed the new mascot to Captain, especially for the girls that did winter cheer, it just became a habit."
Funding has not been a problem, particularly because they were already granted money to buy new uniforms because of the mascot change. Along with this the team also purchased two different sets of team masks, one for practice and a tighter one for competitions. The school has also been providing supplies related to COVID such as hand sanitizer and specific shoes to be sanitized and used when on the mat.
Regulations for transportation to away games have also stayed fairly similar to other seasons.
The rules limit how many athletes can travel on a bus, but that has not impacted the team. "I know our athletic directors have been dealing with this all winter season, so luckily they have a hold of all that," said Mancini.
On the bus the biggest change is the seating regulations to be followed, which includes a seating chart where each person sits along and at least one seat away from the bus driver.
Throughout changes and challenges, however, the cheer team has continued to keep a positive attitude both in relations to COVID mitigation procedures and the mascot change.
"I am definitely sad we didn't get to have a normal season," Rogers said. "But this new season gives us a chance to bond and better ourselves as a team."
Regardless of all the challenges the team has faced, they persevered and continued to have an amazing season.
"I've really enjoyed watching our teams do so well this year," said Fox. "But I miss the student section!"
About the Contributors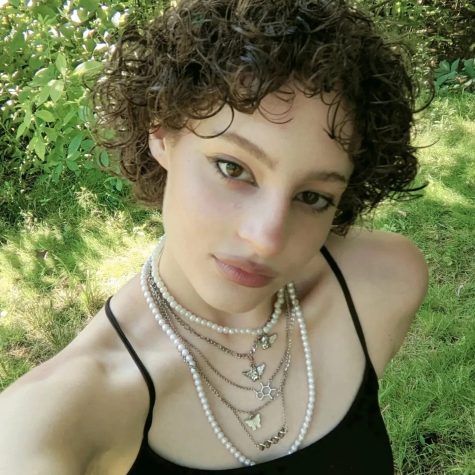 Liberty Harrison, editor-in-chief
Editor-in-chief Liberty Harrison is a senior at LCHS. This is her third year working on the newspaper staff. She would like to one day be an investigative...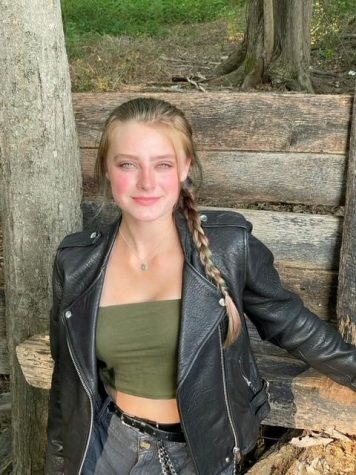 Olivia DeWan, editor-in-chief
Olivia DeWan is a senior, and this is her third year in Newspaper. She loves writing about musicians, sports, and influential students. She will be attending...