Fulfilling her life's purpose: Cindy Duego Johnson coaches and trains athletes
Paulette Freixas | Guest writer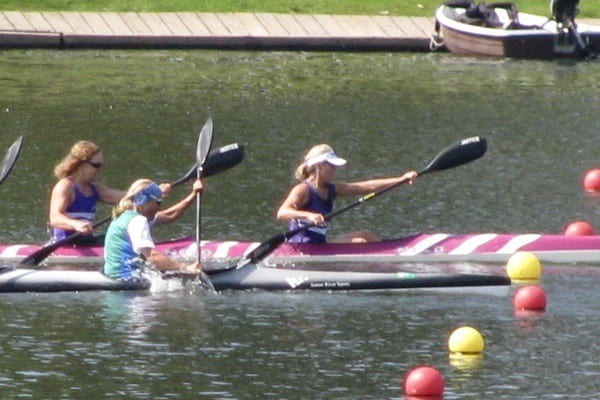 Most women in their 60's are thinking about retirement. Coach Cindy Duego Johnson is different in that at 61, she is participating in 5Ks, writing a book, training athletes, teaching yoga, and paddling in her free time.
Johnson is one of the head coaches of the Loudoun County crew team. She began her rowing career in 1977 while she was still in high school.
Johnson first got into paddling when her friend brought her to the Rideau Canoe Club to meet cute boys. "I went down for the first night, and they threw me into a war canoe, which is 14 people in a boat," she said. "And then I showed up to that war canoe's practices that whole summer, so it got serious right out of the box." Johnson went on to win a bronze medal at the Canadian Championships with her canoe at the end of that same summer.
Despite her feats, Johnson wasn't always the successful athlete she is today. Going to the Rideau Rowing Club was a pivotal moment in her life.
In high school, Johnson describes herself as "The overweight, shy, picked last for every team kind of kid." Johnson wishes she had discovered the athlete in her sooner because she didn't know she was good at something besides academics until she started paddling. "I had brothers that were hockey players that were really good, so I was kind of in their shadow."
Johnson coached and competed at the Rideau Canoe Club for ten years, and she went to the Canadian Championships every year.
Johnson's favorite moment while on the team was winning the national championships when she was head coach in 1984 saying, "We didn't have the best team, but we had the team that performed the best together. And to bring that from a club that competed locally to nationally and show up with teams that, you know, should have been better than us—and they weren't—was just amazing." Johnson describes it as a 'big moment" in her life.
After forming a part of the Rideau Canoe Club, Johnson has continued paddling competitively and recreationally to this day. She rose all the way to the world stage in 2011.
Johnson describes two instances in which she competed on the international level on her website writing, "In 2011 I represented Canada at the World Championships in a women's over 50 Dragon Boat and won 4 gold medals. In 2015, I was also privileged to paddle with a group of fellow Canadian women in the Queen Lili'uokalani outrigger race, the largest long distance canoe race in the world."
All of Johnson's numerous achievements throughout her athletic career have not been without bumps along the road.
As an athlete, team dynamics were an obstacle for her. Learning to get along with other athletes tested her confidence at times. As a coach, Johnson describes an obstacle for her being, "learning to deal with different coaching styles and making sure that everybody on board looked after the athletes, not necessarily themselves." As an "athlete-centered coach" Johnson wants her coaching to fit the needs of her athletes, not her athletes to fit her "box of what [she] think[s] should happen."
Paddling is not the only sport she took up, however. She became interested in triathlons as something fun to try in 1983 as the sport was beginning to gain popularity.
Johnson recalls her first triathlon saying, "My first race, I placed third woman overall. So I'm like 'Oh! I'm good at this!' And then I would, you know, for the first ten years I was top ten women or would win my age group or win overall women. So, I did get results, but I'm more proud of my results being on a team than I am being an individual." Although she took paddling more seriously than triathlons, she went on to participate in four Ironmans, her first one taking place in 1996. Johnson writes, "That first step in a small grass roots race in 1983, and countless other triathlons in between, led me to my first Ironman in 1996 and my current life purpose."
Johnson opened a business in 2015 called The Conscious Athlete where she offers her services as a personal trainer and triathlon coach. She also assesses athletes' performance.
Johnson is a firm believer that everyone is here for a reason. Through her training of athletes, Johnson has been able to fulfill her life purpose of being a "midwife to the human spirit." She explains that by saying, "I help people give birth to things inside them through the vehicle of sport" to help them understand their "power and gifts." What athletes learn about themselves is what counts the most to her.
On top of coaching the crew team and The Conscious Athlete, she is also a yoga instructor by invite-only for the athletes she trains.
Johnson took her first yoga in 2005 after a back injury caused by two contiguous Ironmans. She went into teacher training that September because she felt like she needed to learn how to do yoga properly. "That's allowed me to stay in sport for another 16 years so far," Johnson says.
In accordance with her mission, Johnson has written a book titled The Conscious Athlete that is in editing. She hopes to publish it this year.
She started writing her book ten years ago, but it didn't become the story it is now until five years ago. "I started writing it about the four Ironman that I did because each Ironman taught me something really profound," she says. "Then it kind of morphed into a book that was trying to reach to athletes, and now it's a book that is to all athletes." Her goal is to help "change people's lives" through athletics.
For the duration of Johnson's athletic career and training of athletes, her goal was not merely been victory or results. It's been self-discovery and self-awareness.
Johnson sets clear expectations for how she wants to use her life's experiences to help those she coaches. "I want you guys to see how great you are," she tells the team she coaches. "This is a ripe environment for me to do what I do, to help you guys give birth to things you didn't even know were inside of you."