"9 TO 5" DEPARTS FROM THE NORM: DRAMA DEPARTMENT DELIVERS A MESSAGE OF CHANGE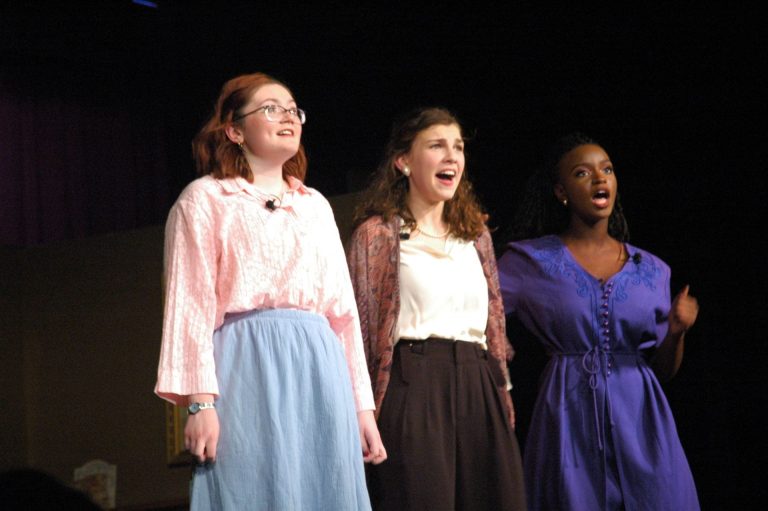 Diverging from the usual romance-centered musical, the drama department chose something new for their fall musical: a play about fighting back against injustice and working for equality.
The musical "9 to 5" was initially a movie made in 1980 that became a musical in 2008. It is about the lives of three women who feel trapped by their office jobs in the oppressive social climate of the 1970's.
The musical follows their different stories and accidental hijinx as they get revenge on their tyrannical boss.
The three women were played by seniors Kate Manson as Violet Newstead, Sirra Faal as Doralee Rhodes, and Sydney Barker as Judy Bernly. Franklin Hart, the ladies' tyrannical boss, was played by senior Harrison Rands.
At the end of every year "the upcoming seniors usually get the majority of the say as to what the play is," Rands said. This year's seniors felt very strongly about their pick. Rands said they "talk a lot about relevancy" and for the seniors' last musical performance of high school they wanted to be "more relevant to social issues."
"It's one of those shows where the audience is bumping in their seats," said Manson. "They're enjoying the music not just the production quality but also the spirit of the show."
The spirit of the show shines through the heart-felt songs and comic dialogue. Though this musical was not only for entertainment but presented a message of "fighting back against the people in your life who do you wrong and fighting for what's right," said Manson.
The structure of the show is different from the way a lot of musicals are structured, according to the senior leads. Usually the romance plot is the central focus of the show, but in "9 to 5" this is not the case.
For their final performance of high school they wanted to deviate from the usual and tell the story of a bond between a united group rather than the love story between two people. "The show was all about fighting back and the sisterhood that the three girls have," said Mason.
"I think its a message of acceptance and equality," said Rands. "We wanted to send a message of respecting each other and treating others equally." Rands noted that "9 to 5" accomplishes that: the story ended in the three ladies receiving the fulfillment they longed for and finally getting revenge on their "sexist, egotistical, lying, hypocritical boss," according to Rands.
"You see what happens when people are hateful towards each other and you can see what happens when people are loving towards each other," said Manson. At the end of the show the message that the drama department wanted to send filled the room.
As Manson said, it was the resounding message of the importance of "love, acceptance, equality, and change."