Drama department takes a trip to New York in "Thoroughly Modern Millie"
This fall, the LCHS Drama Department put on a production of "Thoroughly Modern Millie." The play takes place in the 1920s and follows the journey of a young woman from Kansas and her transition into a more successful life in New York City.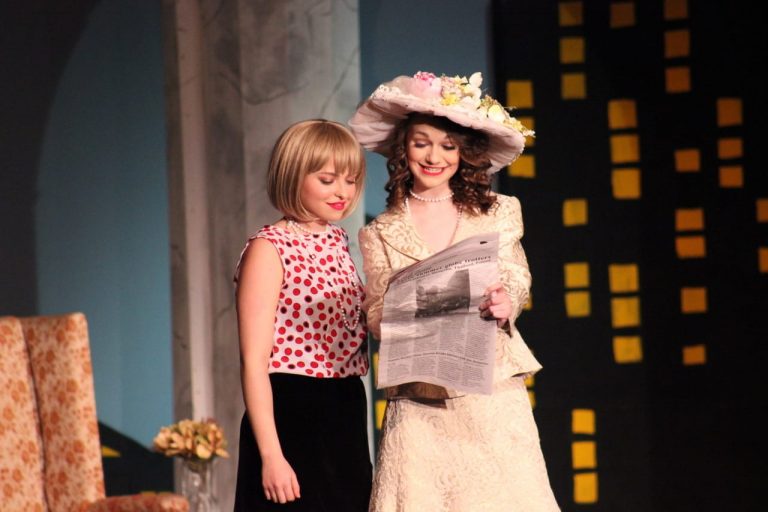 The play touches on topics such as the trafficking of orphans, young love, and success in New York City. Main character Millie Dillmount goes to New York to find a job and hopefully marry her rich boss, but finds trouble when visiting Hotel Priscilla. There, the landlady, Mrs. Meers, trafficks orphans into slavery in China.
Millie Dillmount was played by senior Emma Sleeman, who has been participating in LCHS theatre since her freshman year. "I joined because ever since I was little I have loved being on the stage, and I knew I wanted to continue to do it in high school," Sleeman said.
Sleeman has nine auditions for different colleges and plans to major in musical theatre or theatre in college. "Being involved in the shows has been crucial in helping me define who I am. Both Mr. Wells and my friends involved in theatre have helped me to improve myself both on and off the stage," Sleeman said.
Senior Katie Walker played the part of Guest #1, and entered the drama world in eighth grade through chorus and the drama department at Simpson Middle School. Walker plans to attend college next year and major in musical theater or theater with a directing concentration.
"I love the environment of rehearsals and working with everyone to put on a show and the community that comes out of it," Walker said.
Drama teacher John Wells organizes all of the shows and acts as the everything from "Producer, director, designer of lights and scenery, person generally responsible for arranging everything from selecting the play to scheduling the performance dates to cleaning up afterwards to counting the ticket sales," Wells said.
Wells has been directing plays for 41 years, and 37 of those years have been at County. Wells enjoys working with the actors to prepare the play for the stage in under 12 weeks, and hoped the audience was entertained at this year's fall musical "Thoroughly Modern Millie."