Retiring computer math teacher reflects on running career
Better known as our former computer math teacher and cross country and track and field coach,
Courtney Campbell
has made running a part of his life for years.
"In my area every male played football," Campbell said. Campbell participated in football and track and field all four years of high school, along with two years of basketball. He was the captain of both the football and track teams.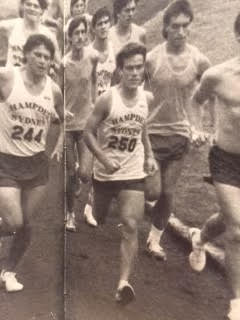 "Basketball was fun but I wasn't that good," Campbell said. "Track was my favorite." Campbell's main events in track were the 1600 and the 3200. 
"I went to region all four years in track and state three years," Campbell said. Campbell was the champ for his district and region championships his junior and senior year and all-state as a senior. 
Campbell set multiple school records at his high school and took all his wins for granted. "Track I was a single A and didn't have a lot of competition back then," Campbell said. 
Originally committed to Hampden Sydney College for football, Campbell made the decision to switch to running cross country instead. "Best decision of my life. I was captain and MVP for XC," Campbell said.  
After college running, Campbell took to ultra races, and was very successful in some of the biggest ultra races in the US. "I have done over 100 ultras, which are races over 100 miles," Campbell said. 
"I've raced 50 miles averaging 6:53/ mile and 100 miles averaging 8:23/mile," said Campbell. "I also raced 271 miles to set a record on the Long Trai, where I lost about 10 to 15 pounds in those 5 days." 
"I still attempt to run now," Campbell said. Campbell has had some recent knee injuries in the past few years which has hindered his ability to run, but he still takes part in runs with the cross country and track teams as a coach. 
Campbell has been a coach for 36 years, originally as a football coach before switching to coaching cross country and track and has been coaching ever since.
Campbell will continue to coach track and cross country even after his retirement from teaching computer math. "Running for a large part has been my life," Campbell said.