New Security Resource officer Jacob Dryden finds passion in helping students get through their problems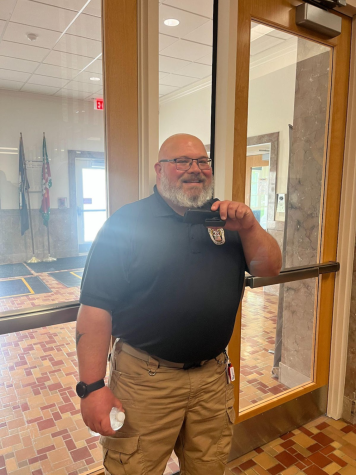 School resource officer Jacob Dryden's previous job was pretty stressful compared to his current assignment. 
"The stress here is not as stressful as it was in my previous position," Dryden said. "I don't have my hands on so many things, I can focus on one or two tasks and complete them."
Dryden spent 11 years at previous work location interacting with all different types of people, which Dryden describes as, "People that had special needs, people that didn't have special needs, people that needed extra guidance and people that just needed people to vent to."
After 11 years Dryden thought it was time to change and he wanted to get back in a school environment.
According to Dryden, County is a "better environment, and I have degrees in health and physical education and I really wanted to get back into the school setting," he said.
Dryden enjoys communicating with students about different things. "It's never stressful conversation with y'all, it's a relaxing conversation even when you guys [students] seem to be a little stressed out and aggravated because I can help you in that situation," Dryden said 
As much as he enjoyed talking to the students, he also had a few other task he has to do everyday.
Sometimes my interactions with students and staff are great, sometimes they need work, but that is life," Dryden said. "I also help people as much as I can whether it be directions, helping them find something or someone, or just someone to talk to! I also have lunch duty a few days a week."
Sometimes his job as an SRO can get a little difficult when students don't listen.
"Sometimes somebody just doesn't listen and I'm hard headed as well and it just gets a little aggravating, but over the years I got used to it," Dryden said.
Even though he came at the end of the seniors school year he builded good bonds to remember them Dryden is proud of the seniors he had encounters with. "In just a few months they have all changed and grown in some way, watching them get excited for their futures as well as their summer break," Dryden said.