Micro gallery displays students' creative passions
Like many others, senior Sydney Tamsett spent much of her time in quarantine working on a hobby: her art. "I needed something to do," the senior said. "So I started spending more time on it."
Now, Tamsett's work is part of a student gallery on display at the Brambleton Library. Her contribution to the exhibit takes the form of six four-by-four watercolor paintings with ink well. "They are a series of plants in decay," Tamsett said. "Each plant is a different reference photo that I painted it from." The coloring of the plants fades from shades of green to yellow to brown across the panels, which Tamsett said speaks to how she uses the plant as her muse. 
Tamsett used a combination of watercolor and ink to complete the paintings, although it isn't her medium of choice. "Pencil is my favorite medium, but I think watercolor shows up better," Tamsett said, adding that watercolor is her favorite medium to paint with. "It has more color capacity."
Although quarantine was an opportunity for Tamsett to develop her skills, it was by no means her first stroke of creativity. "I've been doing art seriously pretty much since high school, but I was doodling long before then and I started to get better with more practice."
Tamsett is now enrolled in Art III, her second year in a class taught by Kyla Jenkins, who Tamsett credits with encouraging her to submit her art for display. "She really pushed me to apply for the micro gallery," Tamsett said.
Tamsett said it was a simple process to get her art into the gallery, consisting of little more than some paperwork and a QR code leading to a Google Form. "It was really easy," she said. "It took like five minutes." 
Despite the ease of application, Tamsett didn't expect much to come of submitting her work and was taken by surprise when she found out she was selected. "I was really shocked because I just kind of tossed it in there on a whim," she said. "I didn't really think it would get in, but here I am."
Tamsett created her work for the gallery in class, spending a little over an hour on each piece, or about one per class. The art room provides not only dozens of supplies for students to work with, but the opportunity for peer collaboration and feedback.
"I think it's a cool environment to bounce ideas off of people and get your friends' opinions," Tamsett said. "And say, 'Oh this is color match, right? Do I need to add more green here? Is this decayed enough?'"
Tamsett doesn't see herself majoring in art or pursuing it as a career, but she does anticipate staying involved with it in the future, "maybe in a club capacity."
"I think art is more of a hobby, but I definitely want to continue doing it."
Leave a Comment
About the Contributor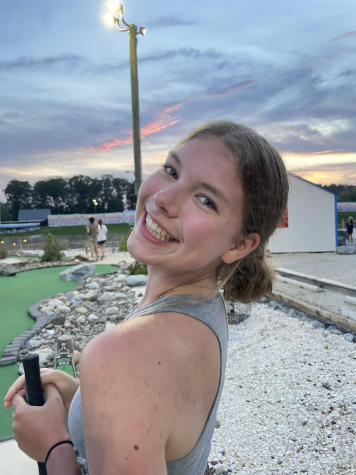 Evelyn Kuzminski, layout editor
Evelyn Kuzminski is a junior at Loudoun County High School. This is her second year serving as the layout editor and a staff writer for The County Chronicle....