How to Hike Leesburg
You are sitting in your house on a Saturday afternoon, stressed about your latest test, relationship drama, or the AP tests looming on the horizon. You just drank a too sugary soda to get some quick energy and quench your sugar cravings, and felt the overwhelming sense of doom as you threw the plastic bottle into the recycling, wondering if you are doing enough to save the environment that's collapsing around you. What is a zoomer to do?
It might seem like no one activity can cure this range of fears and problems, but in fact there is.
Hiking has plentiful benefits across a range of areas. Spending time outdoors reduces stress, releases endorphins and improves your health. Exercise allows you to get out nervous energy, release dopamine, and keep fit, which produces sustained energy in your body. Walking your local forest paths supports the programs and organizations that care for those environments, which along with providing homes to flora and fauna, induce peace and relaxation in forest visitors. Forests are also a natural environmental cleaner, sucking in CO2 and releasing oxygen gas. 
Now your only problem is which path to choose, and that depends on what you want…
Banshee Reeks Nature Preserve
Banshee Reeks, located 11 minutes from our school, boasts 20 miles of hiking trails over 695 acres, a catch and release fishing pond, and dog friendly facilities. 
There is plenty of parking, a porta-potty at the entrance, and an information desk, nature center, and proper bathroom in an old stone farmhouse. 
You are welcome to hang out on the wide porch at the back of the farmhouse, where relaxing in rocking chairs you can look out across a wild meadow. 
Trail maps are available at the front of the house, which is good, because there are so many trails at Banshee Reeks that you can actually get lost in this enormous park! 
Not only does Banshee Reeks have long paths, there is also a variety of trail types including open fields, watersheds, forests, stream walks, and ponds. Very little of it is steep, and the trails are extremely well-tended, although not particularly well-marked.
This park is so large, it is not uncommon to see no one else on the trails, so you might feel isolated. 
However, this park attracts nature enthusiasts, many of whom show up regularly for the set volunteer hours on the third Saturday of every month. The one downside of Banshee Reeks is that they are closed on Mondays and Fridays (but you should be in school anyway).
Red Rock Wilderness Overlook Regional Park
If you are looking for a less isolated hike, Red Rock Wilderness Overlook is a short drive down the road from Leesburg's Costco, on Edwards Ferry Road. 
This 67 acre park is bounded on one side by the Potomac River, and a 1.2 mile trail navigates the perimeter of the park. Just walking the perimeter trail takes about 30 minutes, but you can extend your enjoyment and exercise by following any number of trails that crisscross the park. 
This park is great when it is hot, since mostly you will be walking through shady forests. Ravines from creeks create a few steep scrambles at points, which are fun as long as it is not rainy. 
In fact, you might avoid this park for hiking after a rainy spell. The trails will be muddy near the parking lot and along the riverfront, and the steep slopes become extremely slippery. 
Near the parking lot, historical buildings from an 1800's farm have informational markers, so you can get your hiking fix and pretend to be intellectual all in one go.  
Ball's Bluff Battlefield Regional Park 
Another favorite hiking spot in Leesburg is Ball's Bluff Battlefield Regional Park, where a Civil War battle was fought in 1861. 
This is another park where you will not feel isolated, as it is popular enough that on weekends with pleasant weather, it can sometimes be difficult to find parking. 
This might also be from visitors for the historical talks and tours that are offered fairly regularly for free. Ball's Bluff has a variety of trails. A wide gravel path cuts through the meadow where the Civil War battle took place, and smaller trails with scant tree cover border the battlefield, where multiple historical and educational markers give you an in depth understanding of the fight between North and South. 
Beyond the battlefield, narrow well-kept trails meander through forests, up and down steep slopes, beside the Potomac River, through bowers of wildflowers, and across crystalline creeks. You can follow a series of trails southeast along the Potomac and unknowingly leave Ball's Bluff behind, entering into Edwards Landing Park. 
One reason Ball's Bluff is so popular is because it is easy to calibrate your hike to how long you want to be outdoors. There are short, medium, and longer hikes, and none of them are difficult. 
Rust Nature Sanctuary
If you only have a pocket of time to do a quick dive into nature, then choose Rust Nature Sanctuary, which is about a 3 minute drive from school, just beyond the North Star School on Childrens Center Road. 
The hiking trails at Rust can be divided into two halves:  a meadow loop, and a forest trail. At the base of the forest loop there is a pond surrounded by cattails, but the meadow loop boasts its own vernal pond as well. 
Trails along the meadow loop are wide and grassy, and during the summer and early autumn you can pick wineberries and wild blackberries as you wander. 
The forest trails are narrow and uneven, meandering through deciduous groves and conifer thickets.
The entire property is 68 acres, and both loops together can be walked in 30 minutes. Although there are plenty of picnic tables at the front, there is no bathroom. The parking lot is small, which is only a problem when events like weddings or parties are being held at the Rust manor house, which dates from the early 1900's. 
Simple gardens surround the old house, and you can relax on the benches overlooking the lawns. Rust Nature Sanctuary seems to be an unknown gem. It is easy to get to, and yet rarely will you see another person on the trails.
The Washington and Old Dominion Railroad Regional Park
For those who want a dose of nature without the dirt and rough paths, the W&OD is a good option. Cutting right through Leesburg, this paved path is popular with bicyclists, so you will need to watch out particularly during the weekend.
The W&OD trail stretches from Purcellville to Shirlington, near Washington DC, and because it used to be a railway path, it is wide, flat, and usually straight. 
You can find cafes, restaurants and playgrounds just off the trail. Although it is popular, there have been assaults along the trail, so it is best to walk it in a group and during the daytime.
These are just a smattering of the many hiking opportunities we can enjoy in Northern Virginia, but they are also the easiest to get to, so no excuses!  Get out there and soak up nature.
Leave a Comment
About the Contributor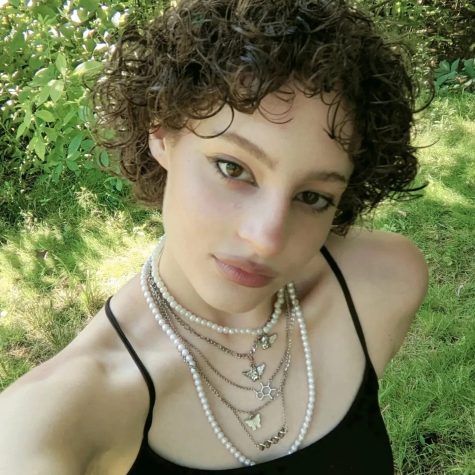 Liberty Harrison, editor-in-chief
Editor-in-chief Liberty Harrison is a senior at LCHS. This is her third year working on the newspaper staff. She would like to one day be an investigative...