Students raise money and awareness in blood cancer fundraising campaign
$66,849.98. Maybe it's the cost of a car. Maybe it's the cost of a year of college. In this case, it's how much money seven people raised in two months to benefit the Leukemia & Lymphoma Society. 
There are countless organizations contributing to the fight to end cancer – locally, nationally, and everywhere in between. In the past couple months, juniors Emma Pearson and Cat Pizzarello took part in the fight, fundraising, campaigning, and ultimately raising the second-greatest amount of money out of fourteen teams in northern Virginia.
"I've always loved being able to help people and I never thought I could raise so much money to help people who really need it," Pearson said.
For Pizzarello, the opportunity to help others resonated most soundly with her. "Helping others is a life skill any person should have and understand the importance of," she said. "This campaign has given me a great deal of happiness and has provided me with so much meaning as to why helping others is so important."
Leukemia & Lymphoma Society (LLS) is a national nonprofit organization that raises money for blood cancer research. Although LLS continuously accepts donations, shorter campaigns may run a few months at a time, led by individuals looking to make a difference.
Pearson and Pizzarello served as team leaders for their campaign, working to raise both funds and awareness for LLS since their campaign launched in January. Their initial goal was to raise $25,000, but they quickly surpassed that and raised their goal to $50,000, which they also ultimately exceeded. The money they raised will partially be used by LLS to host events spreading awareness, but most will go towards treatment research and helping families with hospital bills.
Pearson and Pizzarello raised money both through individual donations as well as larger events. Emailing was one of the most effective methods to collect donations, Pearson said. "And keep emailing them until they respond!" she added. The team reached out mostly to family and friends, but donations also came in from some indirect contacts, like a parent's coworkers. 
The most successful fundraisers, however, were the larger events that they hosted in coordination with local businesses. The team partnered with Loudoun Kitchen & Bar to host a spirit night where a percentage of the revenue was donated to their campaign. Loudoun Kitchen & Bar matched the donations, doubling what the spirit night raised. The team also had their donations matched after the fundraiser at Club Pilates, where they set up a table marketing to the pilates classes.
"It was inside the building, so people there, before and after the classes, came over and looked at our information and donated," Pearson said. Pizzarello's mother, Michelle Pizzarello, matched the donations raised from that event.
But aside from donations, the campaign aimed to share information about LLS. "Our goal in this isn't just to raise money, but to also spread awareness about blood cancer and what LLS's mission is," Pearson said. "I am leading a team to try and get as many people as possible to know about the campaign, donate if they can, and know about the organization as a whole."
There were five other members on Pearson and Pizzarello's team, including both other students and family members. Preparations for the campaign started in August, and putting together a team was a big part of that.
"We sent emails and did social media posts for our friends and family and then had a meeting about it to tell them about the campaign and what their role would be," Pearson said. "We did a lot of prepping email templates to have ready to send. We gathered our team members – that was a major part of it – and told people about it so that when it did start they'd be ready to donate or tell people about it."
Their campaign was indisputably successful, but Pearson said it was also both challenging and rewarding. "I've loved every step of this campaign, even though it's been super stressful at times." 
Although their campaign ended with a second-place finish, the fight against cancer has certainly not ended, and neither has the juniors' involvement. "I would love to continue working with LLS," Pearson said. "I've met some amazing people and I love their mission." Pizzarello agrees: "I will most definitely be participating in the campaign again next year and looking for other opportunities similar to it."
Leave a Comment
About the Contributor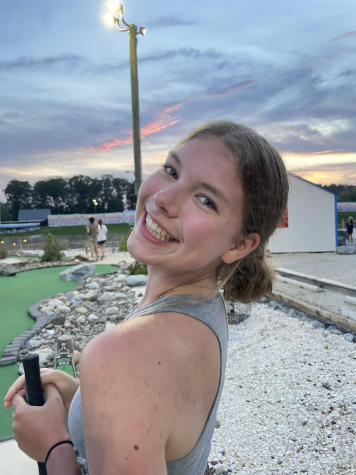 Evelyn Kuzminski, layout editor
Evelyn Kuzminski is a junior at Loudoun County High School. This is her second year serving as the layout editor and a staff writer for The County Chronicle....