The man in the band
Learn about Donovan Claybrooks, County's favorite alto-saxophonist
The Captain's Crew roars, shouting on the top of their lungs and stomping their feet under the Friday night lights, decked out in school spirit. However, it's not the football team they're cheering for. It's senior and alto-saxophonist Donovan Claybrooks.
"I started playing saxophone in 6th grade," Claybrooks said. "I always thought it was a cool instrument and my mom really liked saxophone players."
Claybrooks has been playing the alto-sax for the last seven years, picking it up when all students were forced to play an instrument their first year of middle school.
For many, they dropped their instruments at the first opportunity presented, but Claybrooks did the exact opposite. He went all-out and joined music classes.
"Donovan is a section leader and soloist for the marching program," music teacher and marching band director Darron Young said. "He is one of the finest young musicians I've worked with."
A section leader is essentially the same as a captain for sports. They train members on expectations, instrument maintenance and care, what it means to be a part of the band, and mentor the younger members.
The Marching Captains have won Nationals three times, and Claybrooks was there for two of them.
"When I was a freshman, the saxophone players who were upperclassmen always tried to help me along," Claybrooks said. "This is a huge reason why I am as good as I am."
And make no mistake, Claybrooks is good.
He has won a partial scholarship from the Catoctin School Of Music, but you don't get to where Claybrooks is without hard work. Claybrooks practices for an average of five hours a week.
He also plays several solos in the Marching Captains' performances.
In addition, Claybrooks was invited to play the National Anthem as a soloist on October 21 at senior night, which was the last home football game of the regular season.
"It was scary, but I wanted to have fun with it," Claybrooks said. "I felt like I did pretty well, but I still think I can do better."
Claybrooks agreed that his performance was following a legacy and a huge honor.
"The soloist last year did it, and I really wanted to do it as well," Claybrooks said. "It was a super cool experience."
On another note, Claybrooks explained some of the challenges that come with playing the alto-sax.
"Trying to maintain my tone is pretty difficult," Claybrooks said. "It's especially hard when I'm playing outside because the weather affects turning."
In the marching band, Claybrooks is more than just a soloist; he's part of a team that competes to win titles for County.
"The bus rides to competitions are always really fun," Claybrooks said. "They're also kind of unhinged."
But it's not just away-performances that brings the energy. On their home turf, the Captain's Crew makes sure to show their support for Claybrooks. The student section is often overflowing with people hanging over the fence and waving their phones with the flashlights on, cheering for him like it's a concert.
"It feels amazing," said Claybrooks. "Never in my life could I have ever imagined people chanting my name."
Claybrooks is one of many reasons why the marching band is so popular and wins so many competitions.
"Donovan is mature beyond his years as a musician and a performer," Young said. "His talent and personality have helped to make this season a success."
Music for Claybrooks, however, will extend beyond high school.
"In college I plan to major in music education or jazz studies," said Claybrooks.
Outside of music, Claybrooks enjoys playing basketball, gaming with his friends, and watching anime.
In addition to his other interests, there's no doubt that the saxophone plays a huge role in his life, and adds to who he is as a person.
"My dad has always been my source of inspiration because he's always encouraged me to do what I want," said Claybrooks. "I love everything about playing the saxophone."
Leave a Comment
About the Contributor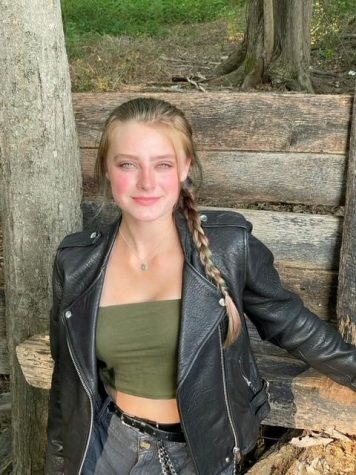 Olivia DeWan, editor-in-chief
Olivia DeWan is a senior, and this is her third year in Newspaper. She loves writing about musicians, sports, and influential students. She will be attending...