Amelia Anderson: A Pageant Queen's Inspiration for Aviation
Flying thousands of miles above the ground at break-neck speed. Alone in the cockpit navigating through the vast expanse of the sky. These are not the typical activities one would expect from a pageant queen, but for sophomore Amelia Anderson that is exactly what a pageant entails. 
"The Miss America Organization and the Miss America Outstanding Teen Organization are one of the top scholarship opportunities for women," Anderson said. "And a lot of people think it's only a beauty pageant when really it's a scholarship pageant."
The prize for winning Miss America Outstanding Teen is a full-ride scholarship to colleges such as Hollins University. 
The Miss America's Outstanding Teen is in conjunction with The Miss America Organization for young women ages 13-18.
"My mom was the director for the pageants, and I just kind of thought that it would be amazing for me to get to one of these universities," Anderson said. 
The pageants have different events that all candidates must attend. First is the interview where candidates speak with the judges. Next is the evening gown portion followed by physical fitness, and then talent. 
"The evening gown event is my favorite because I've always loved big, beautiful dresses," Anderson said. "I also like just getting dolled up."
In addition to wearing extravagant dresses, each candidate must also have a platform. 
"It's basically how you want to change the world, or what you want to do to help a certain group, and bring light to different issues," Anderson said. "If you win a local pageant you are encouraged to go out and implement your goals."
For her platform, Anderson is mentoring young girls who are interested in aviation. She volunteers at Hillsboro Charter Academy, which is an institution dedicated to STEM education. At the Academy is a group of girls called GEAR (guiding, engineering, aerospace, and robotics), which is the main group Anderson works with. 
Anderson smiles at the thought. "I go in and I talk to them about aviation, and I play around with their drones and other technology," Anderson said. "I'm also going to meet with a Girl Scout group to talk to them about aviation, and so they can get their aviation badge."
The platform, as Anderon describes it, is how you want to implement changes you want to see in the future. 
Anderson's focus in many aspects of her life, including pageants, is aviation. 
"My dad is an airline pilot, my mom and my grandmother are flight attendants. Then two of my great grandfathers were pilots, so it's kind of in my blood," Anderson said. "I took my first flight when I was 12 or 13 and I loved it so much. People say there's an aviation bug, like, 'you got bit by the bug,' and that's exactly what happened to me."
Currently, Anderson flies glider planes, which has no engine and relies on lifts in the wind. She started flying gliders in October of 2020, and Anderson will soon be completing her checkride, which is a hands-on examination pilots must take in order to get their flying license. 
"You have to take and pass a written test in order to take the checkride, and so I took the written test once and I did not pass, which kind of hurt," Anderson said. "So it took me a little while to get back up and take it again, and when I did I passed."
Anderson then competed in a pageant named Miss Skyline Drive on January 8 where she was first runner up. The original winner had to step down because she could not "fulfill her duties as her title," so Anderson stepped up. 
"It really made me happy because I got to share aviation now with a lot of people," Anderson said. "Once you have a social media presence like Skyline Drive people start to listen and they get inspired, and they understand more about what you're promoting. So I am super happy that I get to encourage people to find aviation and see if they like it."
For the next part of her pageant career, Anderson plans to compete in the Miss VA Outstanding Teen competition. The pageant is held each June at Liberty University in Lynchburg, Virginia, during the same week as the Miss Virginia pageant. The winner is chosen to represent Virginia in the Miss America's Outstanding Teen pageant.
"I am really excited to meet the other girls and learn about their platforms, and what they're passionate about," Anderson said. "I'm a listener, I love when people talk about stuff that they're passionate about and I love when I talk about stuff that I'm passionate about."
Anderson described the different ways the candidates interacted with each other.
"They have social events for everyone. They will have a dinner or outside of the pageant there are several fundraising events and activities," Anderson said. "There was one called Purseanality, and so it was basically girls putting a bag together and doing a runway walk. People then auctioned off the purses."
The money at those fundraising events goes to the scholarship awards and funding the Miss Virginia pageant. 
"There are several different types of scholarships that the pageant has," Anderson said. "If you win an evening gown you get a little money for that, and there is one for interview as well." 
According to American Experience, The Miss America Organization has distributed over $150 million in educational grants, and those grants are available to women who participate in local, state, and national Miss America programs. 
"They make it possible for every candidate to win something," Anderson said. "And pageants are very glorified on TV. There really isn't much drama. Yes, there are some people who are very extreme about pageants, but it's an amazing community and everyone is so supportive. It's great meeting new people."
Even with her extensive experience in pageants, Anderson still gets nervous in some areas when she is competing. 
For Anderson, the most nerve wracking part is the interview. "The first time I did it my voice was so shaky," Anderson said, laughing. "I would also add the anticipation when they announce the winners. The pause is so long, and they do it on purpose!" 
Regardless, pageants have given Anderson an influx of tools she plans to use later in life, especially when applying to college. 
"It's given me so many skills, such as interview skills. My directors point out when I say "um" or "so," or I pause for too long. I've improved my public speaking and I can come up with answers on the spot, which I never would have been able to do before without pageants."
Anderson is only a sophomore, but she is hoping to attend Liberty University to study aviation and crash aviation. 
"It is kind of  like a trade school, but it's a very important job," Anderson said. "My instructor for gliders offered to help me study at the NTSB Training Center and I got a chance to see all the crashed planes. They told me so much about the process and how much they love it, and it sounded amazing. So after seeing that I definitely was like, 'I love this, I'm going to keep this in the back of my mind'."
 The NTSB Training Center is located in Leesburg and teaches investigators to improve their practice of accident investigation techniques. It seemed like the perfect fit for Anderson, who also plans to get her A&P license, which shows that you have the skills and knowledge to inspect, maintain, and repair aircrafts.
Anderson hopes to expand her influence and knowledge of aviation to women everywhere. 
"I think it's important because I'm so young, older women might be like 'oh my gosh, this 16 year old girl is doing this, so why can't I?'," Anderson said. "So, it's not just inspiring younger girls, it's also inspiring older women."
Leave a Comment
About the Contributor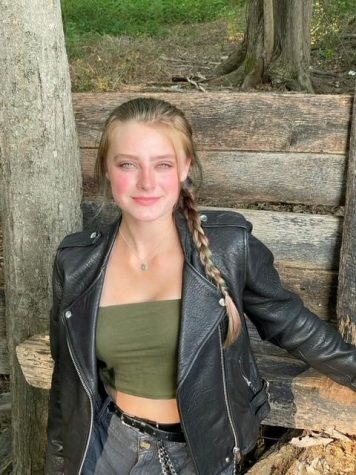 Olivia DeWan, editor-in-chief
Olivia DeWan is a senior, and this is her third year in Newspaper. She loves writing about musicians, sports, and influential students. She will be attending...