Improvasaurus: An ad-libbed act
A stage, a cast, a set… sounds like an ordinary theater production, right? Not quite. Attend an Improvasaurus show and you won't find a full play with scripted lines or an overarching plot.
In each Improvasaurus show, there's a predetermined list of improv games, according to junior Kat Blackwood. "We never know exactly how any of this will go," she said. "But it tends to work out because we're all good at thinking on our feet."
"We bounce off each others' energy," senior Kieran Fensterwald said.
Each performance is themed, and decorated accordingly. The last show, in late February, sported a Jurassic Park theme, "fitting, since our mascot is a dinosaur," Blackwood said. The cast decorated the black box, where they perform, with flowers and trees. "The set was fantastic," Fensterwald said. 
Fensterwald, a team co-captain this year, first auditioned for the team in his freshman year. "The best part is definitely the camaraderie we have as a team," he said. "We are all friends and all hang out outside of school, at school and that allows us to have a very well put together team."
Blackwood joined the Improvasaurus team in her sophomore year. She also cited the other cast members as the best part of the team: "We always have a good laugh."
Blackwood "loves to make people smile," which is why she loves to perform. She treasures the humor and good times that she shares with her teammates, and wants to reciprocate the joy. "They all genuinely make me laugh, so I hope I can do that for them and others."
Fensterwald echoed the sentiment, saying that "it's really fun entertaining people."
Blackwood will be serving as Improvasaurus team captain next year, and says that she "has several spots to fill!" She encourages students to try their own hand at improv and comedy. "[I] recommend that anyone who can make a joke comes out to audition to be on the team next year."
"There really isn't a criteria," Fensterwald said. "If you are just interested in comedy and expressing yourself to the audience, then you're perfect."
The next show will be on April 8th at 8:00 pm in the black box, with an April Fool's theme. The cast rehearses weekly, and invites anyone to come see the performance. "Everyone will have a good time," Blackwood said.
Leave a Comment
About the Contributor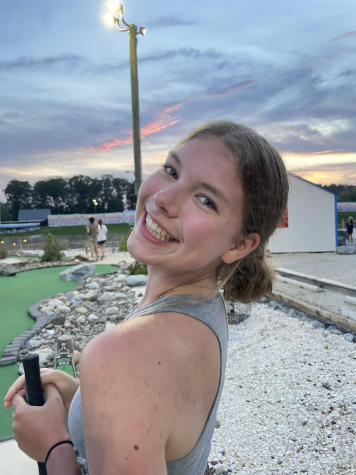 Evelyn Kuzminski, layout editor
Evelyn Kuzminski is a junior at Loudoun County High School. This is her second year serving as the layout editor and a staff writer for The County Chronicle....