School becomes more stressful with optional masks
Everyday I sit in classrooms with 15 or more students for seven hours. When Loudoun County Public Schools announced that masks are now optional, I can't help but feel nervous. Nervous that when someone comes to school with COVID and not wearing a mask, that they can spread it easier, especially to other people not wearing masks. Nervous because if I were to get COVID from going to school, I'd take it home to my family. 
When it comes to wearing masks to school, the schools have allowed masks to be optional during the pandemic have had a higher chance of being shut down because of COVID outbreaks. Schools with masks required are still at risk of COVID outbreaks, but they're less likely to.
A study in 2021 led by Megan Jehn from Arizona State University focused on researching the COVID cases of schools that do and don't use masks. The study showed that the schools that require masks were 3.5 times less likely to have a COVID outbreak rather than schools that don't require masks. In schools that required masks, 16 in 100,000 kids are tested positive for COVID. With schools that don't use masks,  35 in 100,000 kids tested positive for COVID.
There were 191 COVID outbreaks in schools throughout Arizona,  where classes started in July. Of those, 113 had no  mask requirements. Only 16 of those schools had masks required since the start of classes. The rest of the 62 schools had decided later in the year 2021 to mandate masks.
Researchers in Thailand conducted studies on people who were in close contact with someone who was infected with COVID. The researchers found that the people wearing masks were less likely to test positive for COVID over the people who had no masks.
Despite the evidence of the studies, LCPS has implemented new guidelines concerning masks at Loudoun. Masks are now optional in the school building and at athletic events. LCPS has also stated that masks are now optional on buses despite CDC recommendations, but then says that parents should "advise their students on their expectations for mask-wearing on buses," with the implication that the bus drivers will not be responsible for enforcing parents' preferences.  
This isn't the only contradictory statement involving the new guidelines. The CDC says that if a student contracts COVID, they can come back to school the sixth day, recommending a mask for days six-10. LCPS states that although they recommend that student to wear a mask on days six-10, they don't require it. Keep in mind that those with a mild case of COVID usually take one to two weeks to recover and are likely no longer contagious after day 10. 
The VDH no longer requires schools to contact trace individuals with COVID. This means that if someone sitting next to you has COVID, you will not be informed. LCPS will only contact affected families if there is an outbreak in the school or classroom. 
It is up to everyone to be responsible and careful when it comes to COVID. When people don't take ways to stay safe seriously, that's when COVID is easily spread. Wearing masks helps protect friends and family and those that have a compromised immune system. 
Leave a Comment
About the Writer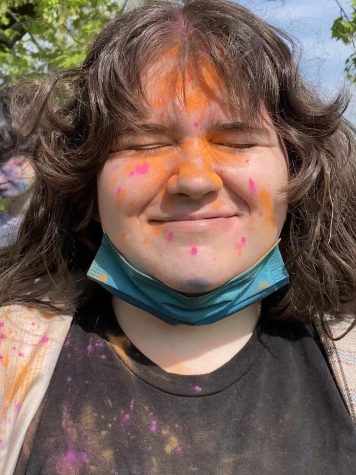 Hannah Winegar, staff writer
Hannah Winegar is a senior at Loudoun County High School. This is her second year writing for the LCHS Newspaper.