Excessive Trash Dumped During Lunch Leaves Cafeteria Disastrous
     According to an informal poll conducted during advisory, over 65% of students do not see an issue regarding an excessive amount of trash being left behind in the cafeteria this year. 
     Contrary to the student body's belief, the school administration and the custodial staff have expressed several concerns regarding the increase in excessive trash being left behind during the lunch periods. The lack of empathy students have when leaving the cafeteria has made the aftermath of lunch periods disastrous. 
     Head custodian Maria I. Benitez explained her concerns about the dramatic increase in litter throughout the cafeteria this past year. "Every year is different, especially when the year starts because freshmen are still adjusting," Benitez said. "However, this year is so much worse. Even today, my custodial staff pointed out how much trash was under the tables in every lunch."
      Each day the administration and school security, including Principal Michelle Luttrell, share lunch shifts in the cafeteria to provide supervision for students and ensure that it is a safe area to eat. Luttrell expressed that she has observed an increase in trash this school year accumulated in the cafeteria as opposed to the past seven years she has been principal. 
     "It is really concerning, but we are attributing that to the students being away from structured expectations for a year plus," Luttrell said. "Although this is my eighth year, there has been more trash than there has ever been, I don't think it's ever been this bad."
     Benitez encouraged students to practice what they are taught at home, so it isn't as bad in the school building. She also mentioned how unnecessary it is to make such a mess when eating. "I know the students are teenagers, but they are already grown, and when I compare high school to elementary schools I've worked at, high school is so much worse," Benitez said. 
     Luttrell explained how administrators have implemented spot checks at the end of each lunch shift to determine if tables are cleaned off sufficiently. 
     "We check the cameras after every lunch shift because sometimes students run away from their messes," Luttrell said. "We call parents, give lunch detention, and we have had to pull students to tell them their behavior is unacceptable and disrespectful. You shouldn't expect someone to pick up your trash because everyone is capable of throwing it away themselves."
     The custodial staff wipes down the tables, changes trash cans between each shift, and after the lunch period they typically spend over an hour sanitizing the cafeteria. However, this year, Benitez indicated that they are spending nearly two hours cleaning after lunch.
     Luttrell mentioned that she is aware of the frustration from our custodial staff due to students actions, the short amount of time and the amount of sanitizing required because of COVID-19 protocols. "With the cafeteria's new tables it is even harder to clean around," Benitez said. "There's more trash underneath the tables, and not in the trash can."
     Benitez explained the importance of knowing how much extra work the custodial staff puts in daily. She emphasized how she understands there will always be a little mess under tables, but for students to play with and throw their food is unacceptable.
     Change can't happen in a day, it takes time, but every student can make a difference by taking their trash to the can. "I know we are here to clean, but it's not fair to us," Benitez said.
View Comments (1)
About the Writer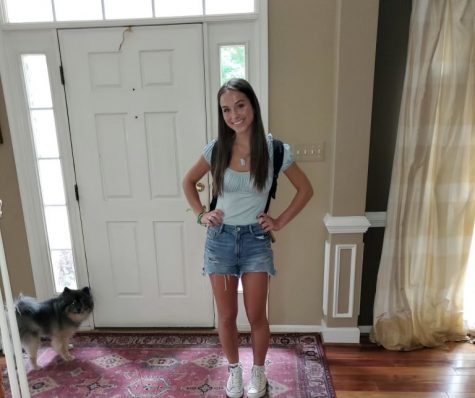 Michaela Scott, Editor in Chief
Michaela Scott is a twelfth grade student at Loudoun County High School, and is currently enrolled in her third year on the newspaper staff. This is her...