PEER Presents Paws Up For Positivity
During the month of November, PEER made it their initiative to host a school-wide event to promote World Kindness Day. They called it Paws Up For Positivity, which was the slogan for lunch on the lawn with therapy dogs.
"We wanted to get more students participating in our weekly lunch on the lawn event, and we thought having therapy dogs would really increase the participation," senior PEER executive Ava Wotherspoon said. "PEER saw that Briar Woods High School conducted a therapy dog event and we saw how successful it was."
According to PEER sponsor Dorene Kuebler, the approval process was the quickest aspect of the organization process. "It was super easy, we just emailed Dr. Luttrell and Mr. Prince to get approval," Kuebler said. "Then, we messaged Healing Hounds, the therapy dog program, and they were really quick to gather volunteers, so the operation was definitely not stressful at all."
The event was promoted throughout the month, along with PEERs other monthly initiatives for World Kindness Day. "All week I heard the excitement and talk from students around the school," Wotherspoon said. "It made me really happy knowing  the positive effect that dogs have on kids."
Kuebler also mentioned the benefits of bringing dogs into school to help support students' mental health. "Some people can't have dogs, or pets, so they don't really get a chance to love on them and see how awesome pets can be," Kuebler said.
The therapy dogs from Healing Hounds have a certain temperament, in order to allow crowds of people petting them. "We had a lot of people leave positive notes on our PEER board after petting the animals," Wotherspoon said. "If you saw a student petting the dog they looked so happy."
According to Wotherspoon, the Paws Up For Positivity event had the most student participation compared to every other weekly lunch on the lawn. "This event was a great moment for our PEER class," Wotherspoon said.
Kuebler indicated a potential time in the Spring for the dogs to return to school before SOL testing. "We are looking at bringing the Healing Hounds back in the Springtime," Kuebler said.
"I loved seeing how much joy those dogs brought everybody, while they gathered around the dogs, and had that moment," Kuebler said. "We're excited to do a 'Destress Before Your Test' therapy dog event next semester."
Leave a Comment
About the Contributor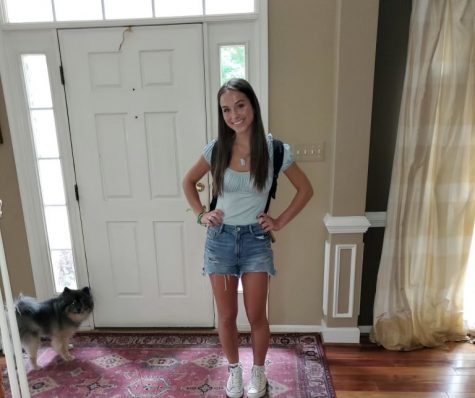 Michaela Scott, Editor in Chief
Michaela Scott is a twelfth grade student at Loudoun County High School, and is currently enrolled in her third year on the newspaper staff. This is her...