Opinion: The Christmas creep: how early is too early?
Disclaimer: When I use the term "holiday," and any derivatives thereof, I mean it in regards to the generic, secular, and often heavily commercialized winter holiday season. Hanukkah, Advent, and other religious holidays should by all means be celebrated according to their respective religious calendars. On the other hand, this piece is by no means intended to direct, offend, or otherwise infringe on your right to celebrate (or not) any winter holidays whenever and however you see fit.
It happens every year: at some point, still in the middle of fall, holiday decorations and advertisements start popping up everywhere you look. "It's the Most Wonderful Time of the Year" plays as you walk down the grocery aisle. Reindeer, snowmen, and holly decorations adorn displays. It's almost as though the pumpkins, acorns, and other autumnal decor have become an afterthought.
There's a name for this phenomenon – my new favorite holiday term, in fact: the Christmas creep. Merriam-Webster defines it as "the gradual lengthening of the Christmas season with earlier displays of Christmas decorations and music, along with earlier holiday sales, advertising, and other displays of consumerism."
There are tangible reasons why many retailers contribute to the Christmas creep. Holiday sales can account for as much as 30% of a business' annual sales, according to an article from the University of Pennsylvania's Wharton School. So it makes sense that stores would want to extend the opportunity for those sales for as long as they can. Whether or not their efforts convert to purchases may be another story, but their reasoning is understandable.
However, how early is too early to start celebrating the holidays? Some retailers have pushed the calendar up a little too far. Hobby Lobby's first holiday post on Instagram this year was on August 16, telling us to buy ornaments to make our decorating a little easier. We weren't even back in school yet, and they were already trying to plant the holiday seed in our brains.
Hobby Lobby was by far the earliest mention of the holiday season this year that I've found, but that doesn't mean a few other stores weren't sneaking snowflakes and golden baubles into
October as well.
Macy's posted animations of toys and gifts under a tree a week before Halloween, announcing their stock of the "most wished-for toys." Walmart advertised their matching winter family outfits "for all your merriest moments" a few days later, with a picture of a family decked out in red and black plaid standing around a mantel decorated with a small tree and gifts.
Other retailers and grocers were a bit more timely with their holiday introductions. Target and JOANN both announced their new holiday inventories and gift guides promptly on November 1. Holiday drinks arrived on the Starbucks menu on November 4. Michael's holiday stock came in a couple weeks into November.
Giant didn't mention the holidays until November 21, but when they did, they declared it "officially peppermint season," a much more disputable claim. Days before Thanksgiving, and they were already telling pumpkin spice to "move over." I can tolerate welcoming peppermint a little early, but pumpkin gets to stick around through November, no contest.
Panera was actually relatively delayed in their holiday product debut this year, with the first mention of the holidays on their Instagram feed on December 2, five days later than it was last year.
So there's more than a few stores that push the envelope in terms of when they break out the reindeer. But I was pleasantly surprised by other stores' abilities to not overshadow Thanksgiving and the end of pumpkin season.
But that's all about retailers' holiday celebrations. What about the decorations that go up at home? I've sort of drawn a line between the retail and personal celebrations: I can't control when Target starts playing "Rockin' Around the Christmas Tree," but I can choose when I do. So while I'm willing to let the retail scene start in early November, personally I like to see the fall celebrations through a bit more before we get to the winter holidays. However, I have revised my opinion on the accepted holiday start date in the past few years.
Until a few years ago, the rule in my house was "no Christmas until December" – Frosty, Rudolph, and Santa had to wait at the door until November was a thing of the past. (This rule complements the other rule in my house – no pumpkin until October.)
But then came 2020: the year that changed everything, this ideal included. With everything that was going on, with not being able to spend time with family and friends, we decked out for the holidays earlier than usual. We needed the holiday joy before December.
Again this year, some decorations went up on Black Friday and in the few days between Thanksgiving and the new month – outdoor lights, candles, countdowns, etc. But I wasn't ready to break out some of the more blatantly holiday-themed decorations until December 1 – the holiday music, Santa hats, and candy canes.
Overall, I've let Christmas creep a tiny bit – but my "creep" was others' "normal." I think that until Thanksgiving, all the attention should be on fall. Get the most out of your pumpkin spice lattes! On Black Friday, I'll start pulling out the winter decorations, but they won't all go up until December. They definitely won't be up in August (looking at you, Hobby Lobby).
The Macy's Thanksgiving Day Parade does a pretty nice job of transitioning from the fall to winter celebrations: starting the parade with the gobbling Tom Turkey and ending it with everyone's favorite jolly old elf.
Leave a Comment
About the Contributor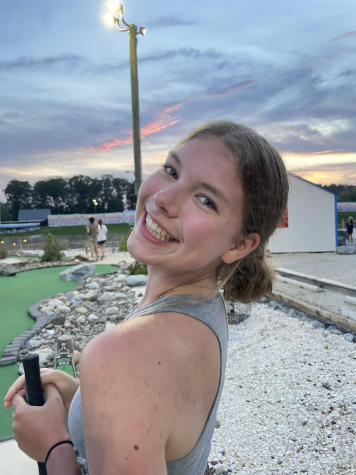 Evelyn Kuzminski, layout editor
Evelyn Kuzminski is a junior at Loudoun County High School. This is her second year serving as the layout editor and a staff writer for The County Chronicle....