Opinion: Top 5 Christmas Movies
As the holiday break quickly approaches, we have an increased opportunity for free time.
Given this, if you don't want to be stuck watching the same stale holiday specials during break, check out this list of the top 5 Christmas Movies.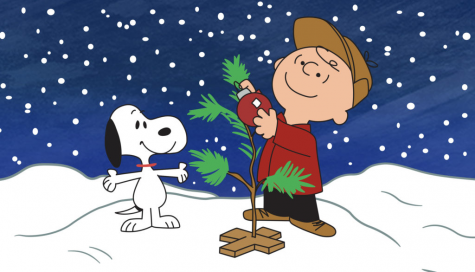 Number 5 is "A Christmas Story" (1983), set in the 1940s. "A Christmas Story" follows Ralphie as he tries to convince his parents to buy him a BB gun for Christmas. This comedy is PG and is a perfect film to watch with the whole family. The film depicts the stressful time Christmas can be. The older version of Ralphie is the narrator, his charming humor and insights of his family's holiday traditions complement the festive tale nicely.
Number 4 is "Home Alone" (1990). Home Alone is about eight year old Kevin. In the age before smartphones, Kevin's family accidentally leaves Kevin behind while they travel to France. Meanwhile, burglars think the expensive house is abandoned and attempt to break in. Kevin sets a variety of traps and gadgets to lead the burglars astray and force them to leave his house. "Home Alone" was an instant classic and has big names involved like John Hughes writing and Joe Pesci starring as a burglar. Overall, "Home Alone" is a must-see Christmas movie this season.
Number 3 is "National Lampoon's Christmas Vacation" (1989). This movie is the best comedy to watch this season. The movie is set in Chicago and depicts Clark Griswold and his hilarious antics while getting ready for his family to come over for Christmas. There are many classic scenes and my personal favorite is when Clark is on the roof stapling Christmas lights and the process of getting them to work. If you are looking for a festive comedy this season, this is surely your best bet.
Number 2 is "It's a Wonderful Life" (1946). This is a film that can truly be described as a Christmas classic. Made in 1942, "It's a Wonderful Life" follows a depressed George Bailey as he wishes he was not living. An angel sent from heaven shows him the impact of his life and everyone's positive effects. This film has the serious undertones of mental health issues while still being a lighthearted and joyous watch. This film has stood the test of time and still is a great watch today.
And finally, the number one Christmas to watch this season is "A Charlie Brown Christmas" (1965). It is the perfect Christmas movie, at only a 25 minute runtime, it is the perfect mix of festive charm and the issues of commercialism. With the movie being 56 years old, the idea of this commercialism is drastically more apparent in today's world. With all this in mind, the Charlie Brown story is great because of its characters and its beautiful animation. The soundtrack of the Charlie Brown movies are great, and this one is no exception. The piano ballads and the strings and the finale song with the children's choir is fantastic. How can anyone go wrong with classic canine Snoopy or Linus and his blanket. These classic characters are refreshing as ever, and it is my number pick for Christmas movies over the break.
Leave a Comment