Student Council Association plans for the future
The Student Council Association is finally back in our school building and ready for the new 2021 school year. As students adjust to being back in school, SCA is making plans to make it feel more normal.
"We are trying to create that unity and culture after this year," said Jamee Robinson, Social Sciences teacher and new SCA Sponsor. SCA has original ideas, new group members and sponsors, and an abundance of events awaiting the year ahead.
"They're all from really different parts of the school… it's really just a big friend group," said Kenly Howerter, SCA President. SCA's motto for this year is "Inclusivity" and they show that accordingly in the members that make up their group.
Currently SCA is focused on County's 2021 Homecoming week, the theme for this year being "Make your mark on the world!" Homecoming will be held outside on the County's football field, as long as the weather cooperates. They have also planned for a spirit week leading up to homecoming. 
"We also want to make homecoming as inclusive and genderless as possible," Howerter said. During homecoming week SCA will be decorating County's hallways as places from all over the world, continuing to show inclusivity. 
Besides it being a new year back for all of our SCA students, we have two new teacher SCA sponsors; English teacher Jason Bryant and Robinson. Both sponsors are excited to help SCA this year and spread Captain's spirit.
SCA is also planning to do many more spirit events and spirit weeks to keep students excited in a COVID friendly way. "Now more than ever we need to have opportunities for students to be a part of the school, and that's exciting," Bryant said. 
"The school as a whole needs to be more aware of what a kids' daily life is like," said Robinson. Both sponsors want to make SCA more of a student government this year and a place where students can help our school grow. 
"We are trying to create that unity and culture after this year away," said Robinson. 
"We have to learn how to be people again," said Mr. Bryant. "SCA wants to be here for all the students at our school & wants to make County the best it can be."
Howerter thought the same saying, "SCA is really excited to partner with other departments this year… willing to help everyone."
Leave a Comment
About the Contributor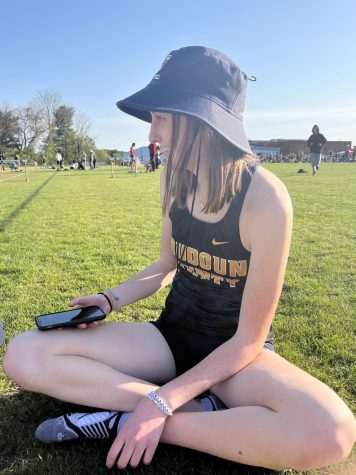 Cat Pizzarello, Managing Editor
Cat Pizzarello is a sophomore at Loudoun County High School. This is her second year working on the County Chronicle newspaper staff and she really enjoys...