Librarian finds history and connection in County's archives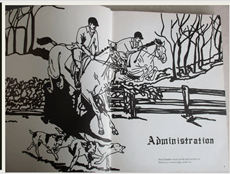 Librarian Tonya Dagstani recently made an interesting discovery. "I came across boxes of these really cool articles from the history of Loudoun County High School since 1954," she said.
"It smells like an antique store because it's so old," Dagstani said about one of the volumes.
While students aren't at school, the librarians are taking the opportunity to clean up the library. One thing found within a scrapbook was a card with the code of conduct for the Quill and Scroll, an honors society for journalism students. "They've got all these programs, and a lot of them are hand-done," Dagstani said.
The scrapbook is also full of old photos of the banquet and induction ceremonies, carefully labeled.
What triggered her interest in this was a 1963 edition of The Loudoun Raider, which included an article about the school fashion board. The members would attend "…a weekly modelling class in which they will learn to practice poise and good grooming, and to model various types of clothing," the article reads.
Dagstani found many parallels between the past and the events occur
ring in the world now. "They're addressing a lot of the same things that we're facing now, they talk about social justice and in some of the articles they're talking about a polio drive," she said. "A lot of the things that we're facing now, we kind of feel like this is all brand new, but generations before us have dealt with similar issues and it's interesting to see those takes on things."