Captains remember those lost on 9/11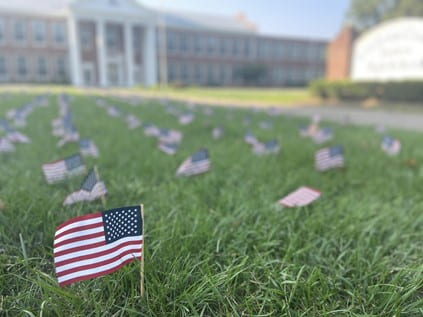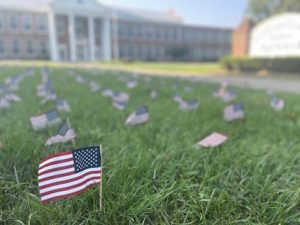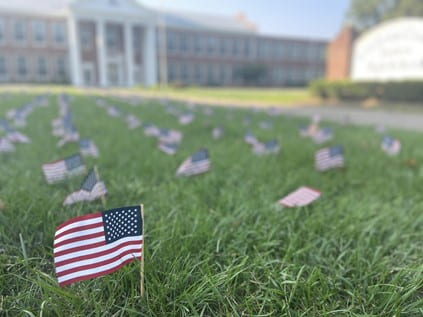 On September 11, 2001, tragedy struck when a series of airline hijackings and suicide attacks hit the United States, sending the world into sorrow. Every year, America remembers the victims who lost their lives on this day.
At Loudoun County High School, the students and staff remembered September 11 by putting out miniature American flags all over the front lawn of the school. These flags remind by passers of the anniversary of the tragedy.
In 2016, students who were part of the Young Conservatives club came up with the tradition. "Since 2016, students have set up the flags, but this year, due to COVID restrictions preventing students from being on campus, staff members set up the display on the front lawn," said principal Dr. Michelle Luttrell.
The flags are put up a few days before September 11, and remain there for several days after the remembrance. "A flag is placed on the front lawn for every life lost on 9-11-01," said Luttrell.
Beside putting flags on the front lawn, Loudoun County High School also remembers those lost during the morning announcements on the anniversary of the attack. "Some teachers take the time to discuss the significance of the event with their students," said Luttrell.
Luttrell said the school will continue to remember the tragedy by displaying flags on the front lawn in future years. "It is a very special and moving tribute," said Luttrell.
About the Contributor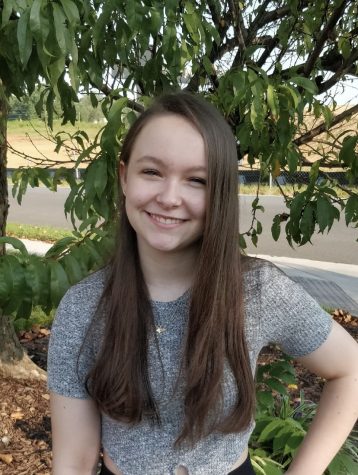 Alexis Shugars, staff writer
Alexis Shugars is a reporter for The County Chronicle, who's interested in writing about a variety of topics. This is her first year writing for the...