Varsity letters- What to do with them?
You often see them in 90's movies worn on the backs of many flaunting their earned varsity jackets. Since 1865, originally earned by Harvard University baseball team, varsity letters have been a venerable symbol presented to exceptional students. 
Since then, varsity letters seem to have become a less valued staple in the many priorities that high school students have. "Years ago it seemed like a bigger thing, like students wanted to get their letter," Daniel Croyle, director of school counseling said. 
Varsity letters have come a long way since 1865. Now, they can be earned in many ways and in many different activities like sports, academics, and arts. Each of these letters has different requirements that need to be met in order to earn them, though sports letters still seem to be the most popular ones to earn. 
Athletic director Kate Cassidy noted that the baseline to earn a letter varies from sport to sport, "Generally it's to have played [competed] in half the varsity games," Cassidy said. According to Cassidy, sport varsity letters can be earned if an athlete has played a varsity sport for two years, but that it is up to the coach to decide.
Students at County can also earn an academic varsity letter. "An academic letter is given when a student is on honor roll for three consecutive quarters," said Croyle. According to Croyle, last year around 70% of the school earned an academic letter and only around 40% actually picked them up. 
Arts varsity letters can also be earned in many ways, but generally there is a system where students in the arts earn points when they participate in activities within their class. 
"It used to be that having a letterman jacket was a much bigger thing," Cassidy said. "I'm not sure if that has just run its course or if it's going to come back in style."
"When I first started years ago, students used to get those letterman jackets that you would see in the movies from 1950," Croyle said. "Some people get them framed. I really haven't seen much lately, though."
Croyle mentioned that while student interest in the letters seemed to have been decreasing, "COVID definitely accelerated it." 
"What am I going to do with it?" Emma Fadely, junior, said.
Other students said they didn't even know where their letter was. "I don't know where my letter went," Brian Sar, junior, said. 
Varsity jackets do seem to have faded, and none of the students interviewed for this story mentioned the once infamous varsity letterman jackets. The majority of students also said that they didn't know what to do with their varsity letter once they earned it. 
A classic option would be the varsity letterman jacket. Although it is a pricier choice, running at $219 at the time of printing, it is a way for students to show off their well-earned letter. Captain varsity letterman jackets can be purchased through Cheer Sports: https://loudouncountycaptains.itemorder.com/shop
Cassidy mentioned that varsity letters can be put onto a backpack and customized to the athlete's style. One online store that makes these is https://www.lettermanbags.com/, though they run almost the cost of a jacket.
"Some people get them framed," Croyle said. Framing a letter is something you can do yourself or order through an online store https://www.varsityletterawards.com/varsity-framed-letters.html.
Shadow boxes are also another option to display letters and awards and people on websites like etsy https://www.etsy
.com/ will put your letter on a pillow. 
Varsity letters can be displayed on a medal stand as well and are easy to purchase at many stores and online websites such as https://www.amazon.com/.  You can also display medals and other awards, along with keepsakes from memorable competitions. 
Varsity letters have seem to have faded away recently, but there are many ways that can honor the hard work put into earning them.
Leave a Comment
About the Contributor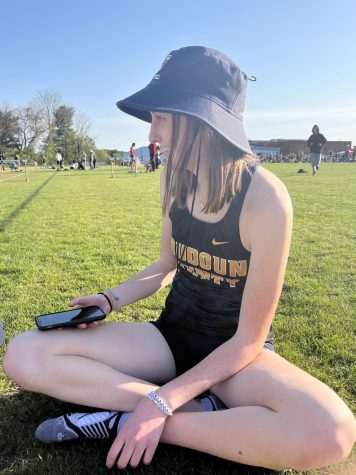 Cat Pizzarello, Managing Editor
Cat Pizzarello is a sophomore at Loudoun County High School. This is her second year working on the County Chronicle newspaper staff and she really enjoys...