Homecoming week returns bringing with it school spirit and a semblance of normalcy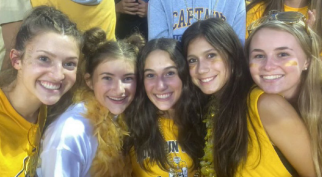 In-person learning is back. Five day weeks are back. Athletics are back. And now, homecoming is back too. 
Last year, these traditions were one of the many social sacrifices made due to COVID. But the return to school in August brought revised policies that allowed many of these losses to be brought back, including homecoming week in its entirety. At County, the semi-formal homecoming dance is preceded by themed spirit days, a school-wide pep rally,  and a varsity football game. 
The dance itself took place on October 16 this year, and was held in the gym. It was planned to be held on the football field, but weather forecasts prompted a change in venue. The SCA managed the set up and take down of decorations before and after the dance. They also sold tickets and  advertised the dance around the school and over social media.
"We make a lot of posters that we put around the school, handmade and on the computer," Camryn Peoples, a sophomore on the SCA homecoming committee, said. "We dealt with tickets, all of us signing up to sell tickets during  lunch." 
Last year meant that not only the freshmen but also the sophomore class had not had the opportunity to participate in a homecoming. 
"Most of the people going will be underclassmen, and they've never been to a real one," junior Maddi Potts said. Potts remembered her own freshman homecoming: "It was fun, my favorite part was definitely the music and the dancing." 
Although the dance was back on this year, there wasn't a unanimous resolve to attend. "I think not as many people will be there as usual," sophomore Ellie Moravek said. "But I think a lot of people will be really excited, just because it hasn't happened like that in so long." 
Moravek and Potts both opted to repeat the at-home celebrations they had last year instead of attending the dance. 
"I'm taking pictures and going to dinner and everything, but I'm not going to the dance," Moravek  said.
Potts said she and her friends had existing plans to do the same sort of thing as last year. "It's just  easier for us." 
But the decision not to attend the dance generally was not made because of any feelings against the dance, rather it depended on what a friend group as a whole was doing.
"I just do whatever my friends do," Potts said.
 Last year, there was no choice to be made when it came to attending the homecoming dance: no dance was held. In the absence of a typical "hoco," many students celebrated with an at-home version, a "foco". This revised version of homecoming included many of the same traditions, but with the exception of the dance itself. 
"We just went to dinner, took pictures, and then hung out after,"  Moravek said. 
 This approach to foco was common; Potts and her friends followed a similar line of events. "We all went over to my friend's house beforehand and we got ready, and then we went to my other friend's house, took pictures, and then just had an afterparty," Potts said.
Students missed having a school dance to attend, but also understood the health and safety issues hosting an event may have caused. 
"I feel like it's just a tradition to have it," Potts said. "But… we wouldn't have gone anyways." 
"I think it would've been hard, but if they could've found a way I thought they should've [had a homecoming]," Moravek said, adding that she would have attended a dance if there was one.
Spirit week also fell short last year. The SCA held virtual spirit weeks and some students posted pictures of their outfits on social media, but many chose not to participate.
"It was online and there was just no point," Potts said.
But this year students embraced the challenge wholeheartedly, pulling out various clothes and accessories to put together outfits and matching the themes, which included Decades Day, Out of this World Day, Career Day, and Hawaiian Out.
"It's fun making the outfits, and it's just fun being dressed up all day," Potts said. "I like it when I can participate in the themes easily. I go all in on the days that I have stuff, but if I don't have stuff, I'm not going to go all out for it, I'll  just wear whatever I have." 
Potts was most excited about her Career Day outfit: "I'm being a lifeguard. I have the fanny pack, the whistle, I have it all."
Moravek said one her favorite days was Decades Day. "I dressed up as a hippie and I thought that was fun." 
Homecoming is often widely considered a social highlight of high school, with the week leading up to the dance itself building anticipation, spirit, and excitement among the student body. 
"I think homecoming is a great experience, and you should at least go once during your high school experience, because it's worth it," Potts said. 
Leave a Comment
About the Contributor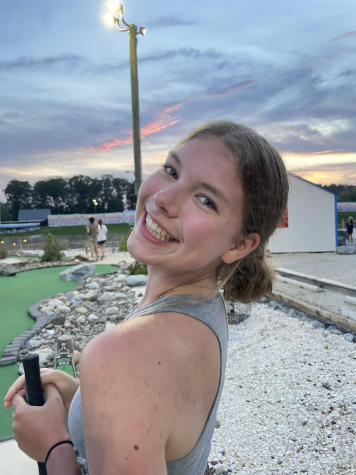 Evelyn Kuzminski, layout editor
Evelyn Kuzminski is a junior at Loudoun County High School. This is her second year serving as the layout editor and a staff writer for The County Chronicle....