MISSED OPPORTUNITY DISCOURAGES STUDENT CREATIVITY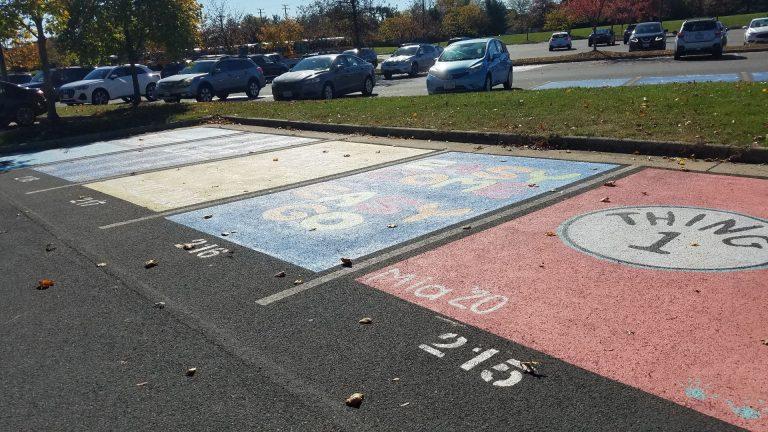 Many students have the same question running through their minds during the start of the school year, which is, why aren't we allowed to paint parking spots? A handful of other high schools in the county have gone ahead and painted theirs.
It's something students have wanted to do because it's a fun activity and it's been done in the past. The SCA has set up fundraisers in the past so people can buy paints for it. A handful of seniors admitted they would be very sad if they weren't able to paint their spots.
Students continued this tradition until about eleven years ago. Nowadays, the parking lot remains completely bare. "They approved it last year for seniors, but in years past they would say no," said Matthew Prince, math teacher and senior class adviser.
As part of allowing students spots, schools are required to repaint the spots at the end of the year. This is an issue because there was no money in the budget dedicated to it and students are unwilling to pay more for the repainting. Principal Michelle Luttrell said, "Since students already pay 200 dollars for their spots, no one is going to want to pay an additional fee to paint them."
The senior class was in charge of it last year and had students each pay ten dollars in order to fund the repainting of the pavement the following year. Unfortunately, no one ended up painting their spot.
"Someone has to use it and take advantage of it," said Prince. "The senior counsel decided not to because they thought it would be a good junior class counsel fundraiser."
Earlier this year, Luttrell said Facilities and Operations don't allow us to paint spots anymore.
However, public information officer Wayde Byard has said otherwise. "Students can paint the spaces if approved by school administrators and if it does not generate additional work for Facilities Services," said Byard.
Independence High School has also recently finished painting their spots. "Our principal, Mr. Gabriel, gave students two days the week before school starting that they were allowed to come in and paint their spots," said assistant principal, John Bonner.
Independence has ensured someone is in charge of running the whole thing before going through with it. "Mr. Gabriel played a big role in organizing this summer since we are a new school. Usually the Junior class sponsors will organize this since it is a fundraiser for them," said Bonner.
Many other schools have painted as well, including Riverside and Stonebridge. The schools have been getting different information regarding whether or not they are allowed to. Luttrell has decided to contact the school board again in order to understand their policy.
People are anxiously waiting for the go ahead, but for now, we will have to park our ideas and painting will be stalled.