Improvasaurus encourages audience to laugh
Improvasaurus? Do you know what it is? Do you want to laugh hysterically at students acting out animals and characters? The improvasaurus group performs shows where actors improvise based on feedback from the audience. The group practices every Wednesday from 6:15-8:15 to create an entertaining show. During the shows, the group performs a variety of games and skits that keep the audience engaged and laughing.
Birdie Stockton, Emma Sleeman, and Caroline Colvin all have a passion for acting and share their positive experience being on the improvasaurus team.
Junior Birdie Stockton, captain of the improv team, comes up with ideas and hosts the shows. This will be her third year on the improv team, after joining her freshman year. Her family urged her to try out for improv because a family friend had a great experience being on their school's improv team.
"I was surprised to see my name on the list after I auditioned, but I have never wanted to stop since," Stockton said.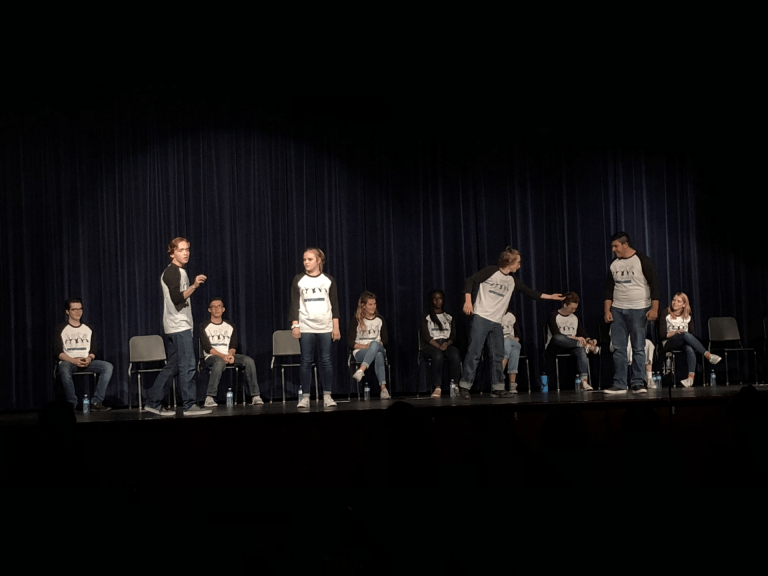 The audition process tests a student's ability to improvise on the spot. "It was a little hectic, because you are given one word and have to make an entire scene with that word with only three lines," Stockton said. "It's fun to be creative and create your own plot."
Stockton's favorite game on the show is "Helping Hands." "We mash food and throw it in each other's faces, and everyone usually breaks character because it makes us all laugh," Stockton said.
Senior Emma Sleeman is in her first year of improv after she auditioned, as a part of her musical auditions, and received a call back for it. "I was hesitant to try out for improv because I thought it would be scary not using a script, but it's actually so much fun and helps with my acting," Sleeman said.
The improv group is given a lot of freedom when deciding what games they play on the show. "We collaboratively try a bunch of games, and when it comes close to the show, we get to choose which game we like the most, and who is the best at each game and who wants to do each game," Sleeman said.
"My favorite scene on the show was when I had to be a sloth. It was a fun scene because I had to be bent over like a sloth and say funny lines. It's always interesting having to act out animals," Sleeman said.
Sleeman wants to go into acting in the future and would love to join an improv group in college.
Caroline Colvin, a senior, was not intending to join improv at first, but after musical audition and improv auditions were combined this year, she figured she would give it a shot. "I went in the first day and I just had so much fun, and I really wanted to make it on the team when I came back for callbacks," Colvin said.
She was really excited to see that she had made the team and looked forward to putting on the shows.
"Performance is a really big part of my life, so I'm planning to continue to do it throughout my life and career," Colvin said.
Her favorite part of improv is how all the members can work together and combine their creative ideas to create a funny and enjoyable show.
The next improv performance will be on December 18.