School store thrives despite challenges
For years, our school store has supplied students with merchandise and official school memorabilia. While this might seem like a simple task, the store, formerly known as the Raider Trader and recently rebranded the Captain's Corner, has been working diligently to not only reinvent Captains merchandise but also transition the store to distance learning.
In a normal year, the school store would be open and available to visit in person, with students running the day-to-day operations. However, due to COVID regulations and school closures, the store was shut down for the first half of the school year.
"The second half of the year has been quite exciting," said Captain's Corner supervisor Lacey Brooks. "Third-quarter we were approved to begin operating in person and just last week we now have all Captain's Corner inventory available for purchase online."
Distance learning has not been the only challenge that the Captain's Corner has dealt with this year; the changing of the mascot also meant that the store needed to completely rebrand and start from scratch.
"Due to our exciting new mascot, we had to work with our vendors to get all new inventory into the school store," Brooks said. "Our Marketing and Advanced Marketing students worked with current vendors like Reston Shirt, MV Sport, Shenk Enterprises and Gear For Sports to create new designs," she said. About seventy percent of the inventory sold in the store was hand-selected by students.
In addition to a new look, the store has also begun to offer both Under Armour and Champion branded merchandise.
"Staff and hybrid students can come see us Tuesday through Friday, from 8:50 – 9:15 am for in-store purchases in room 101," said Brooks. Staff, parents, hybrid and distance learning students can go to https://www.lcps.org/domain/2848 to purchase Captains gear.
Hybrid students interested in the store should also keep an eye out for pop-up stores during lunch.
About the Contributor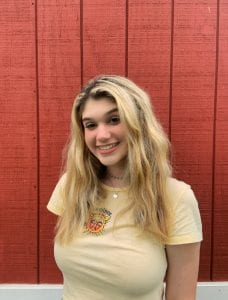 Olivia Zavadil, Managing Editor
Olivia Zavadil is a junior at LCHS, and is currently a Managing Editor on staff. Outside of school, she enjoys volleyball, photography and travel.