Expectation vs. Reality: students weigh in on the hybrid learning model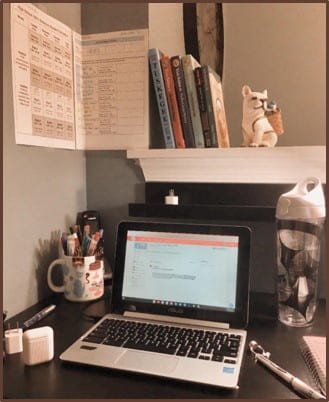 Ever since COVID came into existence a lot of things have changed. From sanitizing everything to wearing masks, our lives have changed dramatically. One of those changes has been online school. This new way of learning took a toll on a lot of students, while others thrived in this new learning environment.
Madi Robb decided she wanted to do hybrid learning. She said online learning wasn't working for her as she is a very extroverted person. "I like the socialization aspect of hybrid," she said, of her favorite part of hybrid learning was, "It's more engaging." Robb's expectations for hybrid learning were met, as she prepared herself for an empty and quiet classroom.
Students have had the option to revise their choice of online or hybrid learning. "Being able to actually be physically in class is really good for me," Robb said, "So I would definitely not switch back to online." In a survey of 88 students, 79.5% agreed with Robb; they would not change their choice of hybrid or online learning.
Keilly Hernandez is an online student. Regarding her reason for remaining in distance learning, she said, "everything is still fuzzy on how things are gonna work out." She said that she wouldn't be able to forgive herself if the people she loved contracted COVID because she would be exposed to it. "The idea of covid hurting me or the people I love is so painful." This is something a lot of people can relate to, as COVID can be very scary and dangerous, depending on other factors like previous health problems and age. Students must weigh physical safety with learning. Many have had trouble with online school because they are visual learners who need one-on-one explanation and help. "Online school has really pulled back the opportunity to do so," Hernandez said.
Kim Truong is a student at the Academies of Loudoun. School has been different for students there because they have been exercising the hybrid method for the entire school year. Truong is a prime example that not everyone had such a rough experience with this different school year. "Hybrid learning at the Academies of Loudoun has been fun so far," she said. "It's a nice balance between school and real life."
Even though hybrid learning has been a lot of fun, Truong wishes things could go back to normal, pre-COVID normal. Hybrid learning has not met Truong's expectations, as she had high standards for it.
Teachers instruct the same material for students online and in-person, so Truong believes there's no difference between staying home and doing in-person, other than putting yourself at risk. "School lunch really isn't that safe," Truong said. "Students can sit less than six feet apart, without masks on and mingle." For Truong, stricter regulations would make hybrid school more enjoyable. •