Culinary students adapt to cooking classes from home
Kennedy Cole shares her favorite meal that she learned to prepare in Culinary Arts, PopTarts. The PopTarts were a familiar treat that culinary students cooked during the beginning of distance learning. (Photo courtesy of Kennedy Cole)[/caption]
The electives Culinary Arts and Gourmet Foods have always been classes where students can bond through cooking and learning about food; however, distance learning has entirely changed the way students can participate in the two curriculums.
"It's just a lot of inconvenience," said sophomore Bella Whelchel. "Luckily, online culinary doesn't limit my ability to learn, so much as my ability to comprehend, and more importantly, to practice."
The two classes are primarily geared towards learning about basic cooking skills, the origin of food service, nutrition, and teamwork. Culinary is directly related to the exploration of Culinary Arts, whereas Gourmet Foods focuses on diet and wellness in addition to cooking techniques.
"There is no expectation that a student will come in with any prior knowledge or experience," said Gourmet Foods teacher Andrew Policelli. "The classes are taught with the assumption that students need to learn the basics from the beginning."
Students may be interested in enrolling in the two classes if they are planning on pursuing a career in the culinary arts field or if they want to start learning a skill that anyone could utilize, the ability to cook a delicious meal.
"Everyone needs to learn to feed themselves or their family. We learn skills that will help you for the rest of your life, and it's fun!" said Culinary Arts teacher Dorene Kuebler. "We also learn fun things like how to make homemade pasta, piping skills for cake decorating, and all kinds of baking and cooking methods."
In the beginning of the week in a normal, non-pandemic class session students gain an understanding of Culinary Arts; near the end of the week the class cooks a recipe in teams. Students spend time prepping ingredients, following cooking instructions, and presenting the food. However, this year has put forward several challenges and forced changes due to the online school environment.
"Classes online are very different," Policelli said. "There is obviously no hands-on lab experience that you would normally get inside the classroom. We try to watch videos, analyze them, and discuss what issues students would run into if they were producing that particular item."
Fortunately for students who may not have all the needed ingredients or tools, cooking is not required for either classes; it's an optional activity, but encouraged to try each recipe to further comprehend the lesson. Kuebler and Policelli choose the lessons that they feel would be most valuable and allow students to suggest recipes for the future.
"Mr. Policelli and I are trying to pick recipes that we believe most people will be able to replicate at home," said Kuebler. "There are so many recipes in our curriculum, so we choose what we think will be accessible to most people."
On the other hand, students have spoken out about their feelings surrounding the at-home learning environment while cooking. Whelchel explained the inconvenience of cooking in her household due to many distractions and tasks.
"Usually it is too much of a hassle to be worth it," said Whelchel. "I also have to deal with my entire family in the house while trying to cook, while under a strict timeline, while trying to clean the kitchen. It is just a lot of difficulty during the school day, so it's easier to just view the video."
In addition, several challenges have been introduced for teachers due to remote learning. Kuebler has expressed the difficulty of finding fun, interactive ways to teach without normal classroom equipment. Policelli explained how distance learning isn't as stimulating as an in person experience because you cannot look over a students shoulder and provide needed help.
"Not being able to see my students and interact has been super challenging!" said Kuebler. "I miss their faces and their humor; I love to see my students bonding with their teammates, working through problems, and just having a great time. I really miss that."
Despite the drastic changes students and teachers have endured due to online school, Culinary Arts and Gourmet Foods still remain as enjoyable, laid back electives for all students. Kuebler explained how the course is a good break from the loads of work and heavy content students receive in other subjects.
"I really liked the idea of having a fun class to go along with my core classes, so I chose Culinary and overall I really have enjoyed it," said Whelchel. "I think the best part has been the relative lack of homework."
Policelli's goal for his students is to get as much out of the class as possible. Furthermore, he wants his students to fully gain an understanding of the basics of cooking, feeling comfortable testing out new recipes, and exploring the world of culinary arts to be able to determine if it is a career path that they're passionate about.
"Gourmet Foods and Culinary Arts would benefit any student," Policelli said. "We all need to eat and most of us enjoy eating good food; knowing how to cook will be a skill you can use for life, whether you are in the field professionally or not."
About the Contributor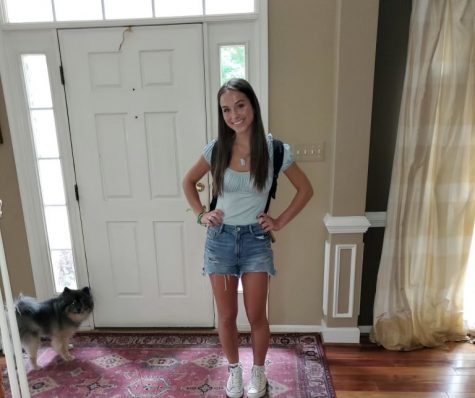 Michaela Scott, Editor in Chief
Michaela Scott is a twelfth grade student at Loudoun County High School, and is currently enrolled in her third year on the newspaper staff. This is her...