A Look into Parasociality: Katherine Garvey wins Gold Key Award for Scholastic Art & Writing Awards
"It's the idea of thinking about peering into someone's life," said junior Katherine Garvey, in response to the meaning behind her art that won an honorable award through the Scholastic Art & Writing Awards. Garvey's art that won the award is supposed to represent the "complete weirdness behind the entitlement of people to feel the need to look into other's lives", such as looking into an influencer's life or that of a celebrity.
The Gold Key Award is an award given to creative teens across the nation. Each regional program in the U.S nominates five teens that submitted original works, visions, speeches, or other creative pieces. The process for the nomination may be different depending on the region.
"It then ranks up after you get the Gold Key," said Garvey. ""It's the most prestigious award that I could win as a high schooler that I could win across the entire country." The Gold Key Award is a regional award, and Garvey is now up to win a nationally recognized award.
Garvey explained that famous artists and writers like Andy Warhol and Shel Silverstein have also received this prestigious award. "I could apply [the award] to any college and it gives me a leg up," said Garvey. Garvey has been invited to several art camps and the award can later help her earn scholarships.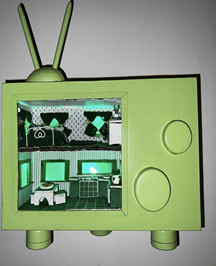 When applying for the award, Garvey submitted multiple pieces of her art that ended up not receiving the award, as she said many people do. "It costs a bit of money to apply, just so a person can't send like 50 pieces of art," said Garvey. The cost of the application is put in place to limit the amount of the submissions one can submit to keep the playing field fair.
Garvey's art won an award in the sculpture category, but there are several other categories available for submission, such as sketches and paintings."If you are really set on winning an award, I would apply for the sculpture or animation category because they don't get a lot of applications for that [category]," said Garvey.
Garvey started her artwork "last year when we were all wearing masks and COVID was still a thing," said Garvey. "It was the week before winter break and Jane [Katherine's sibling] had caught COVID." Struck with boredom, Katherine started this project to use up her time. "I just drank buckets and buckets of limeade and I was like 'You know what? I'm going to make this little green TV," said Garvey.
With her love for miniatures, Garvey began to construct this little green TV representing the strangeness behind parasociality, a kind of psychological relationship experienced between an audience and mass media producers, usually on TV or other online platforms. "It's just the idea that people feel entitled to see into a person's life and how weird that is," said Garvey. "You can't escape it [as a celebrity/influencer] and it changes who you are."
Garvey's reaction to receiving the award is beyond priceless. "I called everybody I knew, I cried, and I posted it on basically every single social media platform," said Garvey. "I won and no one knew what it was, but I didn't care."
Garvey used a variety of materials when creating her masterpiece. "I used velum for the windows… muslim, felt, and embroidery thread," said Garvey. "I even had to sew the curtains by hand."
She also used earrings from the one dollar section at the local downtown Leesburg store, the Sunflower Shack, to add detail to the interior of her sculpture. "I used green cardstock, printer paper that I colored with coffee ground so the grout would look cooler, I used foil, I used glue, I used markers, there are LED lights in it!" said Garvey.
"It's fantastic," said art teacher, Stephanie Woshner. "It's really unique and different. A lot like the art Katherine makes, she explores and experiments and likes to see what different materials do and push it and see how far it goes." Woshner helped Garvey move her study hall so she could come to the art room and continue her projects.
"She's always doing art," said Woshner. "Whether it's me assigning it or by herself." Woshner said that Garvey took it upon herself to submit her work to the competition.
"I have always enjoyed art, you know, my mom is an art teacher so it has always been encouraged in my house," said Garvey. "My mom has always been encouraging of my art, but she opens me up to criticism and critique." Garvey expressed that many people she believes think criticism is scary. "I love critiques, I love them so much," said Garvey.
Garvey expresses that critiques are what help a person grow and reach a potential they might never otherwise have reached. "I want to be a better person, I want to be a better artist, and I know I won't be the best at either, but I can always try to be better," said Garvey.
Over the years as an artist, Garvey discussed how much her art has changed and slowly developed. "I was very controlled and what I would do with my sketchbooks is I would draw one tiny little figure in the middle of the page," said Garvey. "Now I have a book almost filled and filled with sketches all over and I'm really proud of it."
"I'm uncomfortable with making mistakes, but that really limits you," said Garvey. To change her mindset, Garvey now does much of her art in pen to discourage her from wanting to erase. "It actually makes me feel a lot more free,"said Garvey.
Garvey plans to study art in college, but is unsure what area she would like to go into. "I am interested in being an art teacher, but at the same time I have this thought in my head that is like 'maybe I don't want to do that' because I'm also interested in doing studio art," said Garvey regarding her future plans as an artist.
"I like the idea of working collaboratively," said Garvey. "I feel like I have heard a lot of art teachers who say they don't have a lot of time to make art, but I have time now." Garvey's ultimate goal is to be in a collaborative environment where everyone around her is passionate about creativity.
"I don't ever want to be somebody who used to make art, I want to be a current artist," said Garvey. "My whole thing is I want to be surrounded by people who want to also create art," said Garvey. "That's really why I would want to be an art teacher."
Garvey expresses the importance of allowing yourself to not always be perfect. "Being okay with making mistakes is a huge deal, because if you're not okay with making mistakes then you might not make anything as interesting," said Garvey in hopes to give advice to other artists.
Garvey hopes to continue to grow in her art over the coming years. "She is creative, always engaged, hardworking, collaborative, she loves to give advice and help, and constructive criticism and feedback from her peers, they seek it out from her." said Woshner. "She's very knowledgeable… curious and always wanting to learn more… She's awesome."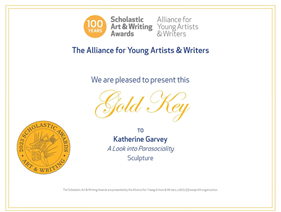 Leave a Comment
About the Contributor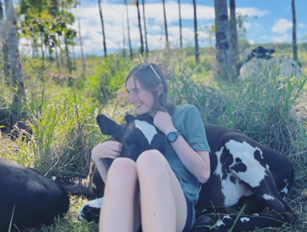 Cat Pizzarello, editor-in-chief
Cat Pizzarello is a senior at Loudoun County High School. This is her third year on The County Chronicle newspaper staff and she will be serving as an...