Guitar students shine in winter concert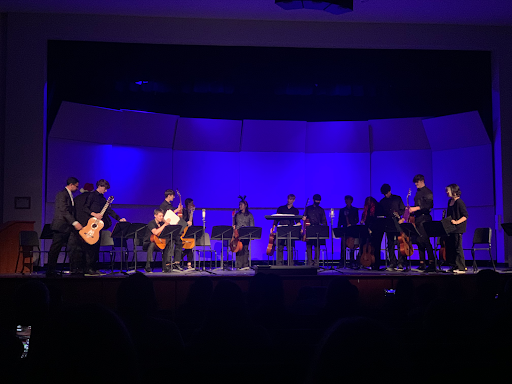 As the lights dimmed and the Winter guitar concert began the large crowd grew silent waiting for the concert to begin.
On December 7, the guitar performed their winter concert which had been in preparation for a long time. "We started preparing probably the second or third week of school," Matthew Trkula, the Director of Guitar and Orchestra, said.
This is Trkula's second year at LCHS. "Mr. Trkula is a very talented and well informed teacher," sophomore Beaunita Nith, sophomore said. "Class is always super fun and enjoyable. We have a lot of inside jokes and a very specific dynamic."
This year the students had more say in song choice than in years prior. "It used to be that we had less of a say in the song," senior Alexander Seymour said, "but we're really close to our instructor."
"When we choose the music, it's a partnership," Trukla said, "I show them some things that I've pulled out and been thinking of, and then we kind of vote on it and see what we're gonna do."
During the concert a variety of songs were played by the Combined Ensemble, Artist Guitar, Advanced Guitar, and some solos. Favorites of the guitar students were "la Cumparista" by Gerardo Rodriguez and performed by the Advanced Guitar, and "In the Hall of the Mountain King" by Edvard Grieg and performed by Artist Guitar.
At the end of the concert, the Combined Ensemble performed holiday songs like "Deck the Halls" and "We Wish You a Merry Christmas."
"The activities that were planned by the director and by the members of the guitar group I think were excellent for the holidays," Barry Deuel, American Sign Language instructor said. "They made everybody feel like it's time to celebrate and enjoyed it immensely."
During the concert, the audience erupted into applause after each song, and guitar students who were not performing at the time would yell out the names of their friends as they cheered.
"I'm amazed that we can reach the level of excellence with high school students playing a very specialized instrument," Deuel said.
Leave a Comment