Inhaler
The new indie-rock band striving for success
Formed in 2012 in Dublin, Ireland, Inhaler started off as just a group of kids in school chasing their dreams. Today, they are quickly raising their name to top venues across the country.
Inhaler met at St. Andrew's College in Blackrock, Dublin. Josh Jenkinson (guitarist), Robert Keating (bassist), Elija Hewson (vocalist/guitarist), and Ryan McMahon (drummer) spent their time listening to any song that "had a guitar in it," as described in an article written by the Rolling Stone.  
Hewson, Keating, and McMahon have played together since they were 12 years old, and recruited Jenkinson to their team later on. St. Andrews College, contrary to its name, is a school for Kindergarten through 12th grade, and Hewson, Keating, Jenkinson, and McMahon dropped out at the age of 16 to pursue music. 
"None of our friends were really into it. We found each other through that. It was a little haven," Hewson told the Rolling Stone. "Everybody saw the band as quite nerdy and geeky and we thought it was cool."
The band got their name from constant references to Hewson's asthma when he was a kid, and it stuck like glue. 
Inhaler's first debut was a cover of Nirvana's "Smells Like Teen Spirit" played at St. Andrew's after a realization that "music is amazing" when listening to The Stone Roses, a 1980s rock band. 
"To be in a band in school is not as cool as it sounds. Not in our school, anyway," Keating said in the same interview with the Rolling Stone. "People gave us weird looks. We dressed weird, listened to weird music. Who were we kidding? We weren't ready to be in a band until we grew up and learned how to play our instruments."
Inhaler worked for five years on their first original song called "Ice Cream Sundae" that was released in 2019. 
Perfect for a sunny day on the beach, "Ice Cream Sundae" is full of bouncy drums and light guitar riffs. 
"Ice Cream Sundae" showcases all of the band's talents, especially Hewson's.
Hewson has legendary musical blood flowing through his veins, as he's the son of Paul (aka Bono) Hewson, the lead singer and frontman for U2. As Hewson already has a foot in the music industry from his father's success, he was able to show "Ice Cream Sundae" to a close family friend Antony Glenn. Glenn, being a music producer and a former member of the band Pulp, a rock/indie rock 1990s band, allowed Inhaler to record in his studio. 
Glenn then took it upon himself to help Inhaler improve.
"There was an important moment in our band when our producer told us we weren't actually good," Keating said. "We blindly thought we were ready, but we weren't. So we stopped and practiced for three months. Now we're finally able to play our instruments."
Recognizing their inexperience and taking a step back proved to be incredibly successful. 
After working on their sound, Inhaler was signed to Ploydor, an English label, in July of 2019 and then released their EP "My Honest Face" that consists of two songs: "My Honest Face," and "There's No Other Place."
Ironically, Hewson followed in Bono's footsteps even more as U2 had also signed with Polydor.
According to an interview with 25entertainment.ie, Inhaler celebrated the signing with a trip to a fast food restaurant called Nando's.
"I think we kind of just didn't believe it, really. I mean, you sign a deal and you see it in all the movies or read it in books, and there's champagne and drugs on the table," Keating told the Rolling Stone. "With us, we were so young as well; we were only 19, so I don't think it had really hit us that we had just signed a deal."
Their young age can correlate with their music, especially seen in "My Honest Face."
Hewson told Apple Music that "My Honest Face" was about discovering who was and who he wanted to be on stage. He came to the conclusion that he should just be himself, but couldn't seem to find his "honest face." 
"My Honest Face" consists of powerful bass and light sounding guitar riffs that when paired with low power chords lead to an airy sound. The drums, played expertly by McMahon, lay heavy beats that emphasize certain words sung by Hewson's haunting voice, encouraging a unique symphony of alternative rock. 
It's no surprise that "My Honest Face" is Inhaler's number one song, having 16,742,298 plays on Spotify, and it makes an appearance on Inhaler's other EP, and album. 
Inhaler also showed great success before their EP when they ranked number 5 at the BBC Music Sound Of 2020 with their song "Ice Cream Sundae." 
The BBC Music Sound is a poll of music critics and industry figures who are trying to find the best, new musical talent, and every year one artist wins the title of being the "Sound."
In an interview with Sarah Thomas from MusicWeek, Hewson described the event as "Incredible" and "quite humbling." 
McMahon also noted that it was insane "Considering we don't have an album out, which is quite a mental thing."
Hewson, backed by McMahon and Keating, explained that they didn't understand the importance of the BBC Music Sound, saying, "Being in Ireland, we didn't really hear of the Sound Of list as much so we didn't really understand how big of a thing it was until recently, and we we're all like 'Woah!'. We've all been really impressed by that."
They released a single called "Cheer Up Baby" in March of 2021, which later made an appearance on their first album, "It Won't Always Be Like This."
"It Won't Always Be Like This" was released in July 2021 and consists of eleven songs: "It Won't Always Be Like This," "My Honest Face," "Slide Out The Window," "Cheer Up Baby," "A Night On The Floor," "My King Will Be Kind," "When It Breaks," "Who's Your Money On?," "Totally," "Strange Time To Be Alive," and "In My Sleep." 
According to Official Charts, Inhaler claimed the top spot of the UK Official Albums Chart with 18,000 chart sales, 92% of which were physical sales. In addition, their album is the fastest-selling debut album on vinyl of any band this century; and is the first album from an Irish band in 13 years to top the album charts in the UK since The Script. 
"It Won't Always Be Like This," Hewson told Apple Music, is a coming-of-age record about trying to make sense of the world. 
The album shows an array of indie and alternative rock. Indie is often characterized as a distinctive experimentation of pop formulas, and lyrics revolving around love, or relationships. 
Inhaler places a strong focus on the bass, which can be heard in all songs, but is especially highlighted in "Who's Your Money On?" 
Here, the bass correlates nicely with the clean tone of the electric guitars. The quick taps of the drum contribute to the fast pace of the instruments, but is mellowed down again by Hewson's smooth vocals with dynamic changes that respond well to his lyrics in a way that sounds gentle, but energized. 
Hewson's voice, which many say is incredibly similar to Bono's, bleeds emotion into every song. 
In "Totally," Hewson's vocal lifts allow you to hear the pain and longing in his tone. The drums and guitars lighten the dark meaning of the lyrics, but mimics the pain Hewson sings about in the chorus. 
Hewson did admit that following in his father's footsteps was intimidating, as he had some big shoes to fill.  
"When I started singing everyone told me 'You sound like your dad' but there's nothing I can do about it. That's just DNA," Hewson told the Rolling Stone. 
Their voices can be best compared when listening to U2's "Sunday Bloody Sunday," where the lifts sound incredibly similar to the ones Hewson sings in "Who's Your Money On?" If they were to sing together, the effect would be the sound of one unified voice instead of two. 
While Bono knew all the ins and outs of the system, he allowed his son to experience the harsh realities of the music industry for himself. 
"He definitely knew it was important that we made our own mistakes," Hewson said. "So it really was just, 'Go on your own, figure it out.'"
Inhaler's popularity continues to grow as their followers increase, but their fans don't consist of many U2 enthusiasts. They are growing a collection of admires on their own. 
"It's nice seeing a young crowd in the front who maybe don't even know who U2 are," Hewson said in an interview with Extra.ie. "People can have their preconceptions when they come to see us, but as long as they come to see us we don't mind. It opens doors but at the same time, they'll shut just as fast if you're not good enough."
Some of the tracks on "It Won't Always Be Like This" were created over the pandemic, so the band worked together over Zoom calls. "What A Strange Time To Be Alive" was one of those songs. 
Hewson expressed concern about being able to play some of the "pandemic songs" at live shows, as the chemistry that comes from recording and writing songs in person wasn't present during that time. 
However, their success shows that they had nothing to worry about, as their first American tour was completely sold out. 
Hewson said that "It Won't Always Be Like This" is an "overwhelmingly optimistic album," and that they want everyone who listens to it to interpret it however they want with their intended positivity in mind. 
On February 24, Inhaler announced on Twitter that their second album was in process, and many can hardly wait to see what they do next. 
"I think it's important to just keep the music in front of you," Hewson said in the 25entertainment.ie interview. "We made an album that we love as a band, and if people like it, that's great; if they don't, so be it. We're just gonna make the second one."
Leave a Comment
About the Contributor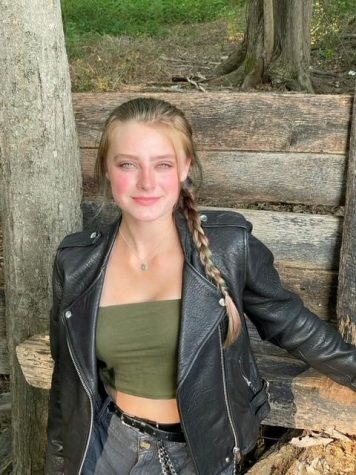 Olivia DeWan, editor-in-chief
Olivia DeWan is a senior, and this is her third year in Newspaper. She loves writing about musicians, sports, and influential students. She will be attending...