Four movies you have to watch this summer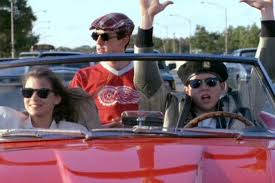 "Hot Summer Nights" is a coming of age crime drama that is the movie to watch this summer. The film follows teenager Daniel as he goes to Cape Cod for the summer to live with his aunt after the death of his father. Daniel goes on an adventure with the town's tough guy Hunter Strawberry, and they begin selling marijuana to everyone on Cape Cod. This coming of age movie has a lot of message behind it and is a must see this summer. 
Skipping school has never been as cool as when Ferris did it. Ferris is nearing the end of his school year and plans an elaborate plan to ditch for the day, and spend a day around Chicago. This is the perfect '80s movie and has a lovable cast of teenagers that reflect the problems with struggling to find yourself, what to do after high school, and the constant fight from independence from authority. Everyone can find someone to relate to in this film. We all feel like Ferris sometimes, and with summer's freedom, it's the perfect time to watch this movie.
A musical to the soundtrack of the Swedish band ABBA, "Mama Mia" is a story about family and growing up, that is accompanied by an amazing soundtrack. Along with the music, it has a touching message of growing old and letting go of people you love so they can find themselves in the world. 
A staple in the horror genre, "Friday the 13th" delivers the perfect horror cinematic experience, depicting a group of teenagers at a summer camp while a murderer is loose. At first glance, this might seem like every other horror movie ever. Although this might be true, the nostalgia and it being well done, and the first of its time make it outshine the rest.
Leave a Comment