New Snack Bins Ensure Leftover Food Doesn't Go To Waste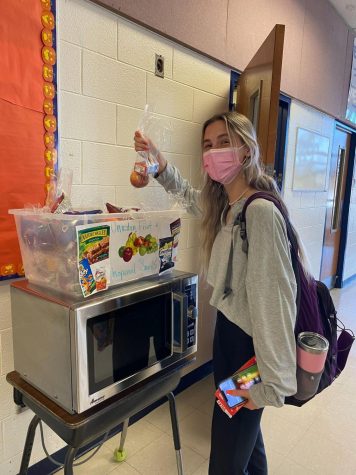 As PEER advisor and Culinary Arts teacher Dorene Kuebler was collecting trash during Lunch on the Lawn, she noticed many students taking their unopened snack bags, and instead of eating any or saving it for later, throwing them straight in the garbage can.
"I felt like not only a mom, but a citizen of the earth and was extremely confused as to why students were doing this, I knew something had to be done to fix this," Kuebler said.
During all lunch shifts, students are automatically given a snack bag along with their main course if they eat school lunch.
"I think the issue is that students don't want these snacks when it's first given to them," Kuebler said. "Later in the day they may be hungry and want this food, but they don't want to carry it around with them."
Kuebler decided to start putting collection bins in the cafeteria, asking students to put any uneaten and unopened food in them. Some of the special education students, such as Thomas Payne and Xavier Dickey, help Kuebler with food collection.
"We sort the food into different categories, such as fruit and refrigerated items," Payne said. "After that, we bring the bins of food back to Mrs. Kuebler," Dickey said. They just recently began helping Kuebler and do this process during their last block or after school.
"It's very sad because most people used to just throw this food away, but now they have the option to put it in the bin," Payne said.
After the food is sorted and brought back to Kuebler, it is put in bins to be sent to Loudoun Hunger Relief. Students in the National Honor Society will volunteer to help bring this food over every Tuesday and Thursday. There are roughly a hundred snacks donated per day.
"This has been important to me for two reasons," Kuebler said. "First, because I'm a taxpayer and we are paying for the free lunches this year. With these free lunches the kids have to take the snacks, but if they throw the snacks away, that means we are paying millions of dollars for this food to be thrown away."
"Secondly, knowing that there are so many people who are out there who are hungry and really want or need this food, it's heartbreaking to know that it's being wasted."
Many of these people have a hard time obtaining fresh fruit in particular. "I really like bringing the fruit and vegetables to them because I know how important it is to them," Kuebler said.
"I want students to know food is always available to them in my room as well as school counseling if they are ever hungry, because I want them to take advantage of having these snacks," Kuebler said.
Leave a Comment