Countywide transportation deficits cause delays
With most students returning to school for the first time since March 2020 there are bound to be problems that students and staff will run into. One of these problems happens to be the transportation system, more specifically, busses.
In the course of the first few weeks of school, students have been gathered outside in front of the bus loop waiting for their respected bus to arrive. Some students waiting as much as 45 minutes. Although this issue was apparent in the years prior to the COVID-19 pandemic, it has gotten noticeably worse this year.
"Unfortunately, we see a lot more parent traffic on the roads during the morning and afternoon bell times, which causes congestion," said Director of Transportation, Kenneth (Scott) Davies, "Our buses get caught in this congestion which contributes to their late arrivals at schools and at bus stops in the morning and afternoon."
"If there is a delay at one level, it will result in delays in the follow-on routes," Davis said.
Loudoun County High School dismisses at 4:03; J.L Simpson Middle School at 3:43. After the approximately 10 minutes it takes to load the buses at Simpson, departure doesn't take place until around 3:55.
This makes it extremely difficult for bus drivers who are responsible for picking up students at both schools. However, a nearby middle school, Harper Park, dismisses at 3:18, and the car traffic caused by that dismissal often holds up the buses.
While Davies was anticipating there to be fewer bus riders due to the pandemic, reality seems to contradict his prediction. "With the recent vaccine/testing mandated by LCPS for all employees, including bus drivers, we are hopeful that more students will return to riding the bus and help alleviate traffic congestion," he said.
An additional cause for this capacity predicament is the large shortage of bus drivers. One reason for the lack of supply of bus drivers is the fact that it's a "highly technical job,' noting that it requires extensive training, background check, drug testing, and other requirements.
Prior to the COVID-19 pandemic, there was already a bus driver shortage, just exacerbating the pre-existing problem. "It's not a full time, eight-hour job with most drivers working three hours in the morning and three hours in the afternoon with a mid-day break, thus resulting in a smaller paycheck than a normal eight-hour position even if that position pays a lower wage," Davies said.
In an attempt to solve this ongoing issue, The Loudoun County Public Schools Transportation Division has increased the hourly wage to $22.16, offered a $2,500 sign-on bonus as well as a $1,000 referral bonus, and increased the guaranteed number of hours for all drivers. Additionally, they have increased their efforts in advertising and are now holding hiring events every other week at their training center.
When addressing the situation of students waiting outside for their respected bus to arrive for extended periods of time, Davies said, "We are working with schools to improve traffic flow and bus loading procedures, which we believe will hopefully result in more reliable service."
On the same issue, bus driver Marsha Wightman said "LCHS afternoon dismissal is a huge challenge for me." She noted the difficulty of focusing on all the necessary things in order to keep everyone safe: the hundreds of students waiting on the narrow curb, the busses in front and behind her, as well as the administration's directions.
"I feel the school could do a better job with overall safety during both arrivals and departures," said Wightman. One suggestion she provided for the school is having the administration wear brightly colored safety jackets so they can easily be seen by all incoming bus drivers.
As for students arriving in the morning, Wightman claims that "late arrivals unfortunately happen." She believes one reason for students arriving at school could stem from the fact that Loudoun County High School is over capacity. Agreeing with Davies, Whightman noted that "Current road infrastructure does not support the amount of cars and busses that arrive daily."
She said the solution to this problem lies in the road system leading to the school building. Having only two small roads leading to the school creates a huge amount of traffic during morning arrivals and afternoon departures," she says, "Possible widening on Dry Mill Road and adding dedicated lanes for busses would certainly increase the flow of traffic.".
Starting this school year, a new app was introduced to students and parents called "Here Comes the Bus." This technology has the opportunity to dramatically improve the experience among students by giving them access to real-time data regarding the location of their bus, reducing the time they spend waiting at the bus in the morning.
Overall, the transportation staff is actively working to solve the numerous problems that have been present for the past few years and have worsened due to the pandemic.
Leave a Comment
About the Contributor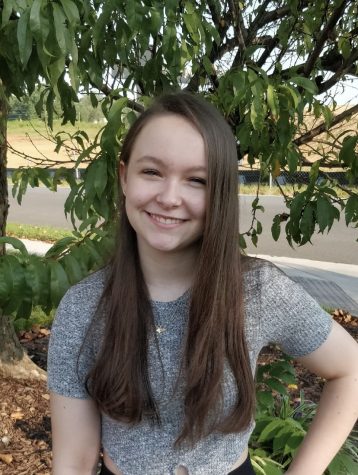 Alexis Shugars, staff writer
Alexis Shugars is a reporter for The County Chronicle, who's interested in writing about a variety of topics. This is her first year writing for the...