Loudoun County's Color Guard Start Strong and feel Inspired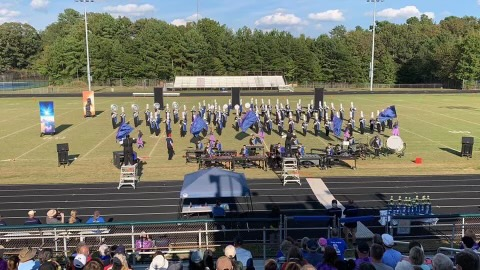 Twirling flags, choreographed dances, and mind blowing performances is what the Color Guard specializes in. A competitive club that is all about spinning flags in breathtaking patterns, and moving around. 
Isa Zemany joined the Color Guard in April. After last year of not being able to go to practices or competitions, the Color Guard is finally back on track, holding weekly practices and competing during the first regular season since 2020. 
Zemany said that they have practice every Wednesday, Thursday, and Friday from 4:30 to 6:30pm in the band room. Every Saturday they participate in competitions.
"In the springtime, we will have practice or interest meetings after school," Zemany said. "You will show up after school, you get to try out, and we will teach you."
The Color Guard has competitions every Saturday. They arrive at school before the event to practice before getting onto the bus that takes them to the schools hosting the competition. Everyone performs and gets rewards afterwards.
Their first competition this year took place at Leonard town High school Virginia on October 2. The event lasted four hours and their team scored 86.4% on their performance.
"For my first competition it was incredibly fun. It was so entertaining to watch and I had a blast performing the whole show," Zemany said. "The feeling you get after performing is so rewarding."
With the pandemic, the Color Guard is taking precautions when at practice or competitions. Zemany said they have a lot of boundaries that they cannot cross because they don't want to get anyone sick.
"With us being Color Guard we already have to stay pretty far away from each other so we don't hit someone," Zemany said. "It also comes down to we have to be careful when we're inside buildings. You have to make sure you're wearing a mask, even with us practicing a lot."
There are many things that are enjoyable in this club. Zemany said that her favorite part is to go outside and swing around a six foot pole and to do tricks with them. They had also said it is a way to meet new people and make friends.
"I have a bigger group of friends now, because you get to meet new people from all across the school," Zemany said. "It's really cool and pretty creative."
Leave a Comment
About the Contributor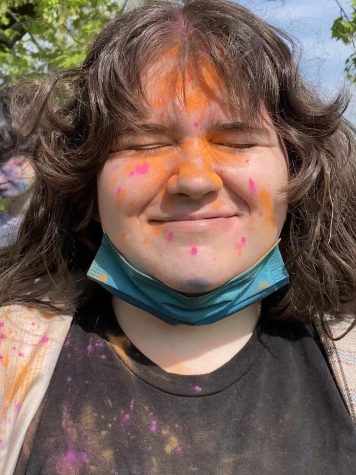 Hannah Winegar, staff writer
Hannah Winegar is a senior at Loudoun County High School. This is her second year writing for the LCHS Newspaper.