New Album by "Halsey" Produced With Collaboration From The "Nine Inch Nails" and Other Artists
Famous popstar Ashley Nicholette Frangipane, better known as Halsey, released a brand new album with a shockingly different sound. On August, 27, "If I Can't Have Love, I Want Power" slammed into the world with a sharp vigor. 
As a mix of punk-rock, rock, and pop, the album pulls together a sound that Halsey has never attempted before, and consists of thirteen songs, "The Tradition", "Bells in Santa Fe", "Easier than Lying", "Lilith", "Girl Is A Gun", "You Asked For This", "Darling", "1121", "honey", "Whispers", "I am not a woman, I'm a god", "The Lighthouse", and "Ya'aburnee".
Halsey's previous album "BADLANDS", which was released in 2015, features more of a mischievous and playful tone, and the main source of inspiration was from the 1994 American crime film "Pulp Fiction." 
"If I Can't Have Love, I Want Power" took a different approach. 
Halsey describes "If I Can't Have Love, I Want Power" as "a concept album about the joys and horrors of pregnancy and childbirth," according to an interview with Zane Lowe on Apple Music. 
She announced her pregnancy in January, expecting her first child who was born on July 14, and named Ender Ridley Aydin.  
The art on the album cover displays Halsey on a golden throne, dressed in a blue gown with a child on her hip while one side of her chest is exposed. 
"My body has belonged to the world in many different ways the past few years, and this image is my means of reclaiming my autonomy and establishing my pride and strength as a life force for my human being," Halsey wrote in one of her Instagram posts. "This cover image celebrates pregnant and postpartum bodies as something beautiful, to be admired. We have a long way to go with eradicating the social stigma around bodies & breastfeeding. I hope this can be a step in the right direction!"
"If I Can't Have Love, I Want Power" will help other mothers have courage and pride in their bodies again after childbirth. It is also a step into normalizing breastfeeding and hitting back the negative comments that surround it.
With her work doubling in speaking about the wonders and pains of childbirth, Halsey brought a powerful collection of songs to the world of music, but she didn't do it alone.
Halsey collaborated with Trent Reznor, who is the lead vocalist for the "Nine Inch Nails". Reznor rose to fame through the "Nine Inch Nails" and is now known as a top-tier music producer. She also worked with Atticus Ross who, like Reznor, is part of the "Nine Inch Nails."   
Why did Halsey want to collaborate? The answer is clear; the "Nine Inch Nails" are one of the world's most popular rock bands. 
Their song "Closer," often referred to as "Closer To God," got close to 100,000,000 plays on Spotify. Similarly, one of their slower pieces called "Hurt" received 62,962,293 plays.
Known for their dark and tormented industrial rock songs, "Nine Inch Nails" conquered the world of rock for several years. Their influence in "If I Can't Have Love, I Want Power" is clearly audible in Halsey's "Whispers," which is the tenth song on her album. 
"Whispers" starts off quietly with Reznor's piano, similar in sound to the "Nine Inch Nails" song "Hurt," released in 1994.  
In contrast, "The Lighthouse," which is by far the darkest sounding song on her album, fully ties the style of "Nine Inch Nails" with Halsey's enraged, seductive lyrics. This track is more like Halsey's music she created in the past, consisting of deep lyrics that ruthlessly call out someone who has wronged her. 
For example, in "The Lighthouse" she sings, "Well, that should teach a man to mess with me/He was never seen again and I'm still wanderin' the beach/And I'm glad I met the Devil 'cause he showed me I was weak/And a little piece of him is in a little piece of me". 
"The Lighthouse" consists of heavy guitar riffs and a deep bass, which lead to a haunting tone.
Another one of her songs that strikes a powerful image is "Ya'aburnee", which is a term in Arabic that directly translates to "you bury me." It's often used to tell a loved one that they hope to die first, as living without their partner would be too much to bear. 
This is another song more heavily influenced with Reznor and Ross's work, due to the grave meaning.
"Nine Inch Nails" worked with Halsey over a long distance, recording their backing tracks in Los Angeles while Halsey added vocals from the Turks and Caicos islands.
But Reznor and Ross weren't the only successful musicians who contributed to Halsey's female-empowerment album. 
Dave Grohl, the lead singer of "The Foo Fighters" and the previous drummer for "Nirvana," is featured on drums in the song "honey." 
Grohl's formidable style of drumming fits right into the rest of the album. He adds a strong force that solidifies the meaning of the song, which is a homage to a former lover. 
In addition to Grohl, Lindsey Buckingham makes an appearance in "Darling." Buckingham is the lead guitarist for the band "Fleetwood" and is known for his daring and difficult riffs. 
"Darling" starts off with a light and airy sequence of a complicated, yet simple sounding guitar riff, which repeats throughout the song. "Darling" finishes with Halsey's classic harmonizing of her vocals, which appears consistently throughout the album. 
On a different note, many artists showed their support for Halsey and her work.
"I'm blown away by Halsey's artistry and commitment to taking risks," popstar Taylor Swift tweeted. "Giving us all a brave new era to dive into and explore together." 
Reviews have said that "If I Can't Have Love, I Want Power" is a "smashing success" and "some of Halsey's best work yet."
Halsey expanded herself as a musician, as all great artists should aim to do. By taking this bold risk and changing up her tone, she challenged herself, and it will only positively affect her work. 
She is an inspiration to women everywhere, especially mothers, and this album is a much needed look at the challenges of motherhood.
Will Halsey continue to create record breaking music? Only time will tell, but all evidence points to the fact that "If I Can't Have Love, I Want Power" is a new chapter for the artist. 
Leave a Comment
About the Contributor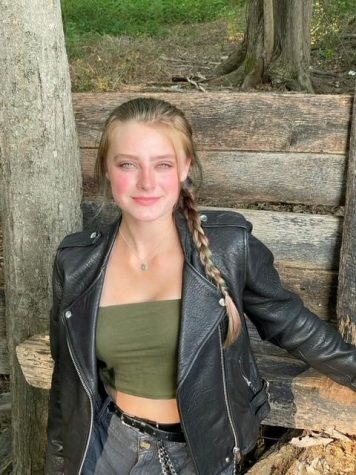 Olivia DeWan, editor-in-chief
Olivia DeWan is a senior, and this is her third year in Newspaper. She loves writing about musicians, sports, and influential students. She will be attending...