Student Led LGBTQIA+ Walk-Out Organized by Felicity Banner
"We would like to have our pronouns, to be respected and protected"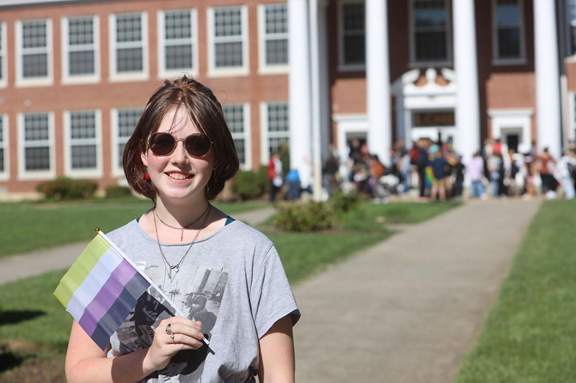 A student-led walkout took place on September 27, supporting transgender students rights, and protesting against new model policies that put transgender students at risk in Loudoun County. This walkout was organized by sophomore Felicity Banner, and resulted in over 60 students participating.
Felicity Banner, a sophomore here at Loudoun County High School, planned the walkout just over a month into the school year. Banner described that with great help from the Pride Liberation Project, "a grassroots organization, completely student led," and principal Michelle Luttrell, they were able to do it. With a "tiny bit over a week" to make it happen, the realization that "all right, this is actually happening!" fueled Banner's fire to bring it to life.
The walkout was a response to new policies being introduced to Virginia students, and Banner recalled the day they came out. ¨On the Friday that all the news came out, everyone was really angry." These policies being the Virginia Department of Education draft policies, making it so that parents are required to give written approval for students to be referred to by their preferred gender pronouns.
Banner gave lots of credit to the Pride Liberation Project for helping inform them on what to do and how to do it, explaining the guidance to be ¨so that we are educated and rightfully angry, than just being angry and not knowing exactly what's happening.¨.
The Pride Liberation Project describes itself on the website to be "The only student-led organization advocating for LGBTQIA+ rights in Virginia. We're entirely led by high school students, and work to create empowering schools and communities for all LGBTQIA+ students in Fairfax County and Virginia."
The announcement of the walkout was spread solely through word of mouth. Banner explained, "we weren't allowed to put anything up around the school," since the walkout wasn't allowed to be advertised publicly. However, Banner was still very satisfied with the outcome, stating it was "way more people than I expected".
Along with being the organizer of this walk out, Felicity Banner is a part of the LGBTQIA+ community, and has friends who are too. They explained the dynamic of the situation, being that  "We would like to have our pronouns, to be respected and protected".
On the day of the walk out, 10:45am, 62 students gathered on the front steps of the school. The sun was out, students were present, conversing, various pride flags waving around amongst everyone. Banner explained purchasing over 80 flags with the plan to donate whatever was left after the walkout, but not needing to. "There were none left, they were gone, it was great," Banner said.
Banner overall felt that the walkout ¨went great¨. They made the point that "even though we were a tiny bit smaller than some of the other walkouts, it was really great and it felt awesome.¨
This was Banner's first time speaking to the press, meeting Wayde Byard (LCPS Public Information Officer), and truly organizing an event this great. They described the days before it all, between friends and themselves. "¨Everyone was just freaking out, like this is happening¨.
Banner described what school looks like for some of their friends at other schools, how some of their peers struggle with not being accepted. "I have some friends who go to other schools, they get called slurs 24/7".
Banner feels that Loudoun County High School is more inclusive than others in the county, explaining "I'm glad that I'm in a school that's much better." While "there's still bullying, there's still people who call you names because your queer", "were definitely making a stand".
Leave a Comment